The Latest: Ride operators not to blame in Ohio fair crash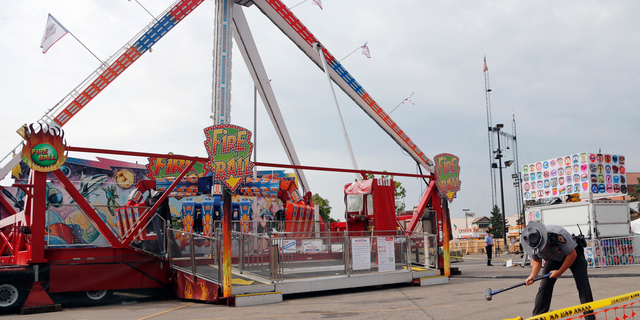 NEWYou can now listen to Fox News articles!
COLUMBUS, Ohio – The Latest on the investigation into a deadly thrill ride accident at the Ohio State Fair (all times local):
3:45 p.m.
People on a carnival ride when it broke apart at the Ohio State Fair in July have told investigators that operators had trouble latching the safety harness on one of the riders who was ejected.
Witnesses gave conflicting statements on whether they thought a 19-year-old woman tossed from the Fire Ball ride had been secured properly.
Ohio's State Highway Patrol says in an investigation released Thursday ride operators were not to blame when one of the ride's carriages broke off.
The report says the ride had been properly inspected before the accident, which killed an 18-year-old man and critically injured his girlfriend.
Investigators say they believe the two people who were ejected were latched in when the accident occurred because firefighters found their harnesses were still locked down afterward.
___
10:30 a.m.
Authorities say there won't be any criminal charges in the deadly thrill ride accident at this year's Ohio State Fair.
Franklin County Prosecutor Ron O'Brien said Thursday that there's not enough evidence to move forward with a criminal case.
An 18-year-old high school student was killed and seven other people were hurt on the fair's opening day on July 26 when the Fire Ball ride broke apart as it was swinging with a full load of passengers.
The ride's Dutch manufacturer, KMG, has said that excessive corrosion on a support beam led to a "catastrophic failure." It shut down similar rides worldwide after the accident.
The State Highway Patrol in Ohio led the investigation and says it interviewed over 80 witnesses, including people on the ride when it broke apart.