The Latest: Police push on to discipline last 2 officers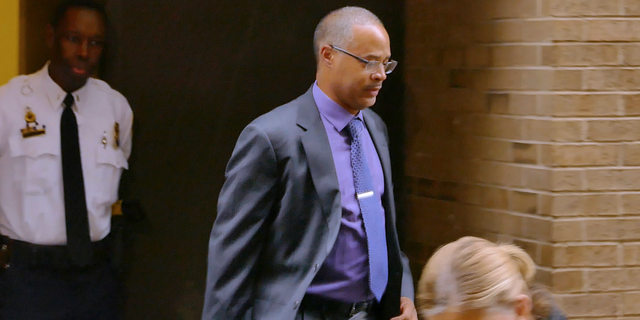 BALTIMORE – The Latest on a disciplinary hearing for Baltimore police van driver Caesar Goodson, who transported Freddie Gray when the black man suffered a fatal injury in police custody (all times local):
4 p.m.
Baltimore's police commissioner says he remains committed to an effort to discipline officers for the treatment of Freddie Gray, a black man who died in police custody.
Commissioner Kevin Davis issued a statement Tuesday after an administrative board found Officer Caesar Goodson didn't violate department policies while driving Gray to a police station in 2015. Gray died a week later from injuries suffered during the journey, touching off days of protests and rioting.
Davis says he remains committed to a process to discipline officers under state law. He notes that two other officers still face administrative charges, and says "we will stay the course for the remainder of this process."
Davis also says the department "will continue to make improvements within our organization to meet the expectations of constitutional policing demanded by our community."
Following an investigation by the U.S. Justice Department, the police department is under a court order to reform its practices.
___
1:05 p.m.
A disciplinary panel has found a Baltimore police van driver not guilty on all administrative charges related to his transportation of Freddie Gray, the black man whose death in custody sparked riots in the city.
The three-member board said Tuesday that Officer Caesar Goodson did not violate any police department policies.
The panel consisted of two Baltimore police officers and an outside chair.
Department lawyer Neil Duke argued that Goodson should have been fired for failing to follow policy by not buckling Gray into a seatbelt and failing to get him medical attention.
Gray died a week after his April 2015 arrest from a spinal cord injury he suffered during the van ride.
Goodson's lawyers say the police department failed to properly distribute a change in policy making the seatbelts mandatory just days before Gray's arrest.
___
9:55 a.m.
Baltimore's city solicitor says a police disciplinary panel will announce its verdict in the case of a police van driver who could be fired for his role in transporting Freddie Gray, the 25-year-old black man whose death in custody sparked riots in the city in 2015.
City Solicitor Andre Davis said Tuesday the three-member panel will reconvene to make public its verdict in a 21-count case against Officer Caesar Goodson.
It's unclear when the panel will announce its verdict. Attorneys gave closing arguments in the case Monday.
A new state law passed after Gray's death opened these disciplinary hearings for the first time. That has led to some confusion about the process. Davis says any punishment would be sealed, because it is considered part of personnel records.