The Latest on Ferguson anniversary protest: Man shot by officers in critical condition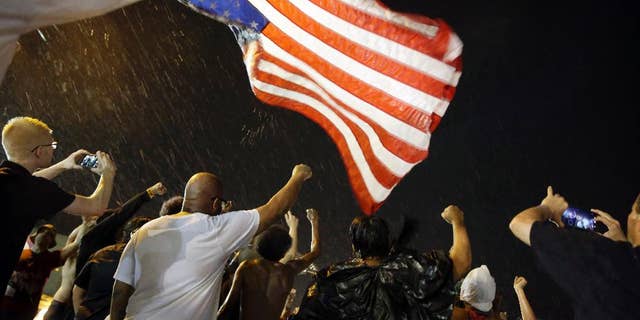 NEWYou can now listen to Fox News articles!
FERGUSON, Mo. – The latest in the events marking a year since the death of 18-year-old Michael Brown in Ferguson, Missouri (all times local):
2:30 a.m.
St. Louis County Police Chief Jon Belmar says a man who opened fire on officers in Ferguson, Missouri, is in "critical, unstable" condition after being struck when the officers returned fire.
Belmar said at a news conference early Monday morning that plainclothes officers had been tracking the man, who they believed was armed, during a protest marking the anniversary of the death of 18-year-old Michael Brown.
Belmar says the man approached the officers, who were in an unmarked police car and opened fire. The officers returned fire from inside the vehicle. They then pursued the man on foot.
The chief says the man again fired on the officers. All four fired back.
The man was taken to a hospital, where Belmar said he was in surgery. The man was not immediately identified.
Belmar says the police shooting happened shortly after dozens of shots rang out around 11:15 p.m. Sunday, as protesters were gathered on West Florissant Avenue. The shots sent the crowd running for cover.
Brown, who was black and unarmed, was fatally shot by white Ferguson Police officer Darren Wilson. A grand jury and the U.S. Department of Justice declined to prosecute Wilson, but the shooting touched off a national "Black Lives Matter" movement.
___