The Latest: Officials identify NYC firefighter who was shot and injured by wanted gang member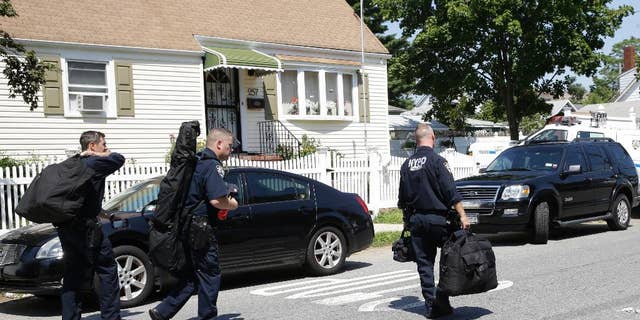 NEWYou can now listen to Fox News articles!
NEW YORK – The latest on the attempted arrest of an armed gang member and the subsequent shooting of a firefighter (all times local):
___
2:30 p.m.
Fire Department of New York officials have identified the fire lieutenant who was shot and injured by a wanted gang member at the start of a six-hour standoff that ended in the ex-convict's death.
The fire lieutenant was identified Friday as 53-year-old James S. Hayes. He was shot in the left calf and buttocks.
Authorities say Garland Tyree was to be arrested for violating parole early Friday when he set a fire at his girlfriend's Staten Island home.
Tyree barricaded himself in the home and was killed in a gunfight with police.
Authorities say his mother was flown by helicopter from Delaware to Staten Island and spoke on the phone with Tyree during the standoff. They say he told her he would go outside just before he came out firing an assault rifle.
___
1:15 p.m.
An armed gang member who shot a New York City firefighter has died after a gunfight with police following a six-hour standoff.
Two police officials tell The Associated Press that Garland Tyree died after opening fire on officers surrounding the two-family home he barricaded himself into early Friday.
The officials weren't permitted to discuss the case ahead of a scheduled mayoral press conference and spoke on condition of anonymity.
Officials say a federal task force had attempted to arrest Tyree for violating parole when they noticed smoke coming from the Staten Island home. They say the 38-year-old then shot a responding fire lieutenant twice. He's in stable condition.
Police negotiators spoke with Tyree for hours. It wasn't immediately clear if he was killed by police or himself.
___
10:40 a.m.
Authorities say a suspected gang member accused of shooting a New York City firefighter twice has barricaded himself inside a house but is communicating with police.
Police and fire officials say a U.S. Marshals regional task force was to arrest Garland Tyree on federal parole violation charges early Friday when he apparently set fire to a Staten Island home.
When firefighters responded, they say, the 38-year-old Tyree fired an assault rifle, striking a Fire Department of New York lieutenant in the calf and buttocks. He's in stable condition at a hospital.
Chief of Detectives Robert Boyce says officers are in touch with Tyree, his family and girlfriend. He says Tyree has been on parole since last summer.
His attorney declined to comment. Court documents show he has previously violated parole.
___
8 a.m.
Authorities say a New York City firefighter was shot in the leg by a man who barricaded himself inside a house, then set fire to it while authorities were trying to serve a warrant.
U.S. Marshals arrived at the 2-story apartment house in the Mariners Harbor section of Staten Island shortly before 6 a.m. Police say the man then set a fire and started shooting.
A 54-year-old firefighter who responded to the blaze was struck in the lower leg. He was taken to an area hospital in stable condition.
No other shots were fired. Police say the gunman was believed to be the only person inside the house.
A hostage negotiating team and other emergency personnel are on the scene.