The Latest: Officers line up for blocks for cop's funeral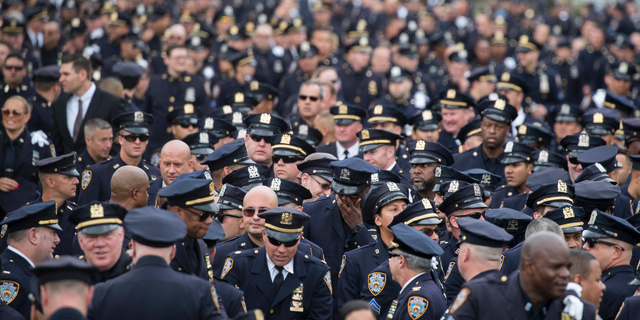 NEW YORK – The Latest on the funeral of a slain New York City police officer (all times local):
10 a.m.
Law enforcers have lined up for blocks outside the Bronx funeral for a slain New York Police Department officer.
Officer Miosotis Familia (mee-oh-SOH'-tihs fuh-MIHL'-yuh), a mother of three, was shot to death last week while sitting in a police vehicle.
Church members handed out tissues as mourners arrived Tuesday.
A screen flashed images of a smiling Familia with friends and family. It also showed images of the memorial outside the Bronx precinct where she worked.
The stage bore a large photo of Familia over a black draping with the NYPD insignia. One of the floral arrangements bore the message "Blue Lives Matter" with angel wings.
The church is in a historic, baroque-style theater that seats 4,000. The dark blue ceiling resembles the sky.
___
1 a.m.
A New York City police officer who was shot and killed while sitting inside her police vehicle last week will be laid to rest Tuesday morning.
Officer Miosotis Familia (mee-oh-SOH'-tihs fuh-MIHL'-yuh) was remembered on Monday at a Bronx church for her smiles and kindness.
Gov. Andrew Cuomo, Mayor Bill de Blasio and New York Police Department Commissioner James O'Neill were among those who paid their respects. They were joined by members of the rank and file and neighborhood residents.
Familia was writing in her memo book early last Wednesday when a man walked up to the police vehicle where she was sitting and fired. The man, Alexander Bonds, was shot dead by police soon after the attack.