The Latest: Northern California wildfire triples in size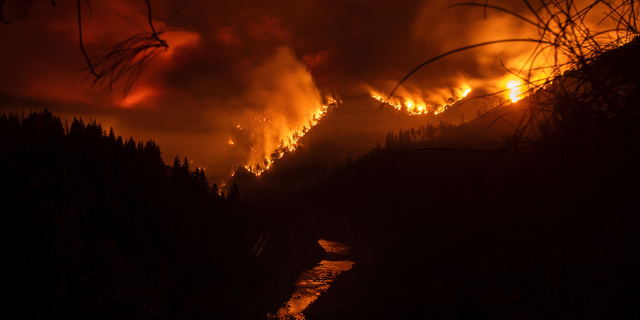 NEWYou can now listen to Fox News articles!
REDDING, Calif. – The Latest on wildfires burning in California (all times local):
7:10 a.m.
Fire officials say a wildfire roaring through timber and brush on both sides of a Northern California highway tripled in size overnight, prompting mandatory evacuations.
The U.S. Forest Service said Thursday the blaze burning along Interstate 5 near Redding had grown to 23 square miles (60 square kilometers). It was 8 square miles (21 square kilometers) on Wednesday.
Officials did not immediately say how many people the evacuation order affected. The fire is in a rural area with scattered homes.
Officials said the blaze was human-caused but they didn't indicate whether it was arson or accident.
Truckers abandoned their vehicles as flames roared up hillsides. Officials say about 17 big-rigs were abandoned and at least four caught fire.
A wildfire nearby that was only contained last week left neighborhoods in ruins and killed eight people.
___
12:00 a.m.
Abandoned trucks are scattered along a section of a major California freeway, which closed after a wildfire exploded near Redding.
The fire erupted Wednesday and has roared through timber and brush on both sides of Interstate 5 near the Oregon state line.
Fire officials say the blaze was human-caused, shut down about 45 miles (72 kilometers) of the freeway and there's no word when it will reopen.
California Highway Patrol Lt. Cmdr. Kyle Foster tells the Los Angeles Times that truckers abandoned 17 big-rigs as flame raged next to the freeway, and at least four rigs caught fire.
Evacuations were ordered for scattered homes and cabins in and around the Shasta-Trinity National Forest.
But while the fire was moving rapidly, fire officials say it doesn't immediately threaten any large towns.