The Latest: Mother: Police held bomber's roommate overnight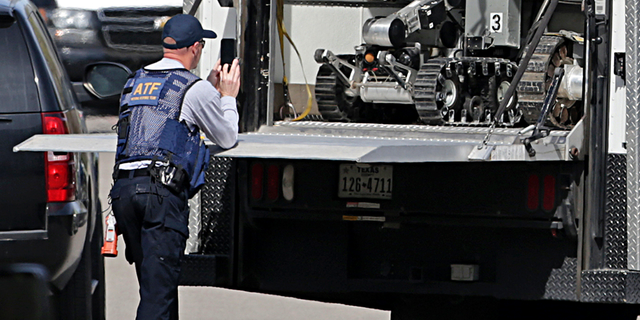 PFLUGERVILLE, Texas – The Latest on the investigation of the Austin bombings (all times local):
8:34 p.m.
The mother of a roommate who lived with the suspected Austin serial bomber says her son was arrested by SWAT officers and held overnight in connection with the bombings before the suspect was located and blew himself up.
Jennifer Withers says her son, 26-year-old Collin Thomas, was walking home from work Tuesday night when police "flew at him."
Thomas was questioned about the bombings and was still in custody when bombing suspect Mark Conditt was surrounded by police and detonated an explosive early Wednesday.
Thomas was released hours later and has not been charged.
Withers says Thomas, who is black, "seemed to get along fine" with Conditt.
Conditt's first two bombs killed and injured black victims, leading to speculation that they were hate crimes.
___
6 p.m.
The mother of an Austin spa worker says one of the package bombs was addressed to her daughter at the downtown Austin spa.
Anita Ward, a nurse at Austin Med Spa, tells the Austin American-Statesman that the FBI and Austin police told her daughter Tuesday morning that she was the intended recipient of the bomb. She says her daughter also works at the spa.
The package was intercepted, unexploded, at a FedEx sorting center.
Ward says her daughter does not know the bombing suspect, Mark Conditt, who blew himself up early Wednesday as a tactical squad closed in on him.
___
5:10 p.m.
Authorities have released the second roommate of Austin bombing suspect Mark Conditt.
Austin police on Wednesday took in for questioning two people who shared a home with Conditt in the suburb of Pflugerville, just north of Texas' capital. One was released hours later.
Police said Thursday that the second roommate had also been released. Neither roommate's name was released because police said they were never arrested.
Investigators say the 23-year-old Conditt blew himself up before dawn Wednesday as a SWAT team closed in on him.
They say Conditt is responsible for a series of bombs that killed two people and seriously wounded four others since March 2 but that his motives remain unknown.
___
12:05 a.m.
Police say a 25-minute cellphone recording left behind by the bomber whose deadly explosives terrorized Austin for weeks details the differences among the weapons he built and amounts to a confession.
But his motive remains a mystery.
Mark Anthony Conditt made the recording hours before he died Wednesday after detonating one of his own devices as SWAT teams closed in. Austin Police Chief Brian Manley says it seemed to indicate the 23-year-old knew he was about to be caught.
Manley called it "the outcry of a very challenged young man talking about challenges in his own life."
Authorities wouldn't release the recording.
Conditt was tracked down using store surveillance video, cellphone signals and witness accounts of a customer shipping packages in a disguise that included a blond wig and gloves.