The Latest: Jaguars will play home opener vs Titans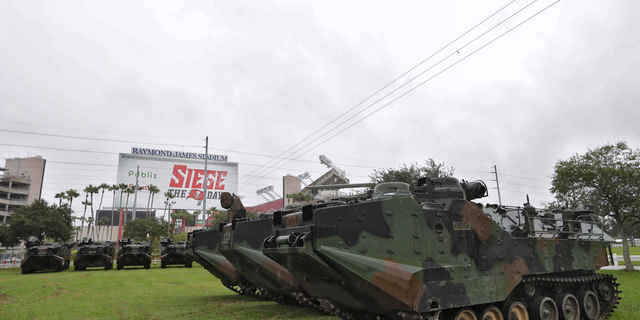 The Latest on Hurricane Irma's impact on sports (all times local):
6:05 p.m.
The Jaguars' home opener against Tennessee will be played in Jacksonville as scheduled.
Team president Mark Lamping and Mayor Lenny Curry made the announcement Tuesday at a Jacksonville fire station, just hours after the team returned home following an extended stay in Houston because of Hurricane Irma.
"It's so important on so many different levels that we show the world that Jacksonville is open for business," Lamping said.
The Jaguars spent three nights in Houston because of the hurricane.
Team officials wanted to inspect EverBank Field and meet with city leaders Tuesday before making a call on the game.
Owner Shad Khan also donated $1 million to a Florida's First Coast relief fund.
The team is donating 5,000 tickets to first-responders and local residents affected by Irma.
"This is about bringing our city and community together," Curry said. "This is about getting back to normal operations."
___
5:30 p.m.
No. 22 South Florida has begun preparation for Friday night's home game against Illinois, reconvening for practice after having four days off due to Hurricane Irma, which forced cancellation of last weekend's American Athletic Conference opener at Connecticut.
Coach Charlie Strong said about 70 percent of the team remained on campus to weather the storm, while others returned home to be with their families.
The coach likened preparing to face the Illini with a shortened practice schedule to cramming for a test. Strong stressed, however, that it's important to keep football in perspective at a time when many Floridians have been devastated by the storm.
While the coaching staff and players may not be experiencing the same difficult circumstances as victims of the hurricane, Strong wants communities hit hard by Irma to know the Bulls care.
In an attempt to give back and provide a distraction to the problems caused by the storm, USF is inviting first responders and their families to attend the game free of charge. The Bulls are also offering complimentary admission to all high schools teams from throughout the state.
___
3:25 p.m.
The U.S. Golf Association is postponing the U.S. Women's Mid-Amateur Championship, which was scheduled to be played Oct. 7-12 at Quail Creek Country Club in Naples.
The USGA says Hurricane Irma's "impact on the course" means the tournament cannot be played at this time.
The USGA says it will keep working with Quail Creek to determine when the championship will be played.
__
2:05 p.m.
For now, Bethune-Cookman is still set to play at Florida Atlantic on Saturday night.
It's still iffy.
Bethune-Cookman, which has been practicing at Southern University, was scheduled to fly back to Florida on Tuesday. FAU, which has been in Wisconsin since Friday, is planning to fly home on Wednesday.
But a planned 6:30 p.m. kickoff seems tentative at best, since Palm Beach County is still under a curfew that begins at 10 p.m. (though that may be lifted by the weekend). Hotel availability might be an issue as well.
Lane Kiffin and the Owls practiced inside Wisconsin's stadium on Tuesday, and the Badgers have also opened their training table to FAU as well as doing whatever else they can to keep the team's travel party comfortable.
___
1:30 p.m.
FIU's teams are about to return to FIU — where problems await.
Football and six other of the school's teams are scheduled to leave Birmingham, Alabama on Wednesday and return to Miami. The only team staying behind is men's soccer, which will play at UAB on Thursday before coming back.
The teams have been in Birmingham since last Thursday to escape Hurricane Irma.
Football is not playing at Indiana on Saturday, but is looking for another game to fill its schedule. Scoreboards in the football stadium were damaged by the storm, as was the tennis facility and the basketball arena. FIU will evaluate those issues later this week.
FIU director of sports and entertainment Pete Garcia says the Panthers' athletes "handled all that came with this storm as well as they possibly could."
___
12:45 p.m.
The Tampa Bay Lightning and Florida Panthers, along with the NHL and the NHL Players Association are donating $2.7 million to Hurricane Irma relief efforts.
The Tampa Bay Buccaneers have separately pledged another $1 million to relief efforts.
The money will be directed to those affected in Florida by the massive, destructive storm. The teams will also ask fans to donate at their preseason games that start later this month.
The Panthers started grassroots relief efforts Tuesday, delivering ice and water to South Florida residents in need. The Panthers' arena in Sunrise, Florida has also been a staging headquarters for power-restoration crews and first responders.
___
12:25 p.m.
The FAMU Tampa Classic is going to be played as scheduled.
Florida A&M will play host to Tennessee State in Tampa on Saturday, the Rattlers' first time playing a home game in that city since 1996.
The game was in some doubt because of the impact of Hurricane Irma, but officials Tuesday confirmed plans to play.
All first responders will be given free tickets, along with their families. Donations for relief efforts will also be accepted.
Raymond James Stadium will be the site of three games this weekend: No. 22 South Florida will meet Illinois on Friday, the FAMU game is Saturday and the Tampa Bay Buccaneers open their delayed NFL season on Sunday against the Chicago Bears.
___
12:20 p.m.
No. 23 Tennessee and 25th-ranked Florida will play as scheduled Saturday in Gainesville.
The Southeastern Conference announced Tuesday that the league opener for both teams will remain a 3:30 p.m. kickoff at Florida Field, keeping the game intact less than a week after Hurricane Irma devastated parts of the Sunshine State.
Florida athletic director Scott Stricklin says the decision was made after meeting with city and campus officials. The stadium sustained only minor damage to signage.
The Gators (0-1) canceled their home opener last week against Northern Colorado because of the impending hurricane, which passed through Gainesville early Monday. It's unclear how much practice and meeting time Florida has missed in the past week. The Volunteers (2-0) beat Indiana State 42-7 on Saturday in Knoxville, Tennessee
___
12:10 p.m.
The home of the Miami Dolphins and Hurricanes has been declared safe after structural engineers found no damage related to Hurricane Irma.
The Hurricanes are scheduled to play the next game there Sept. 23 against Toledo.
"After thorough inspection by engineers, it has been deemed that Hard Rock Stadium experienced no structural damage from Irma," Dolphins president Tom Garfinkel tweeted Tuesday. "We are good to go with CanesFootball on the 23rd!"
The Dolphins' first game at the stadium will be Oct. 8. Their season opener scheduled at home this past Sunday was postponed until November because of the storm.
Engineers inspected the stadium canopy that was part of a recent $500 million renovation and found no issues, despite fears of a tornado in the area spawned by Irma.
The Dolphins' practice complex has also been declared safe and will be available when the team returns from this week's stay in California for Sunday's game against the Los Angeles Chargers, Garfinkel said.
___
11:55 a.m.
Florida Atlantic is targeting a Wednesday return to its campus in Boca Raton, and is still hoping to play its scheduled home game Saturday against Bethune-Cookman.
The Owls have been in Wisconsin since late last week. They played at Wisconsin last Saturday and were unable to get home because of the effects of Hurricane Irma.
They've remained in Wisconsin, getting help from the Badgers with logistics since.
FAU officials are still monitoring flight opportunities and recovery efforts in South Florida.
___
11:20 a.m.
Tim Tebow has spent time visiting with some special needs residents of a shelter for those displaced by Hurricane Irma in his native Florida.
The former Florida quarter and now New York Mets minor leaguer posted a video on Twitter Monday of himself listening to a World War II veteran play harmonica at the shelter. He also posted a picture of himself posing with volunteers at the facility. Tebow didn't give the location of the shelter.
Tebow won a national championship and the Heisman trophy with the Gators. He turned to baseball last year, though has said he hasn't given up on once again playing in the NFL. Tebow finished his baseball season with the Mets' Single-A affiliate in Port St. Lucie, Florida.
___
9:55 a.m.
There will be football in Tampa this weekend, and the Buccaneers will finally get to start a season delayed by Hurricane Irma's wrath.
The Bucs announced that they will be able to host the Chicago Bears on Sunday at Raymond James Stadium. Tampa Bay couldn't play at Miami as scheduled in Week 1 because of the storm.
Buccaneers CEO Brian Ford says "hosting the game is important to us, as Tampa Bay has been through a lot over the past few days.
Also, No. 22 South Florida is resuming practice Tuesday and will play host to Illinois on Friday, also at Raymond James.
USF athletic director Mark Harlan says "we are confident that Friday's game can proceed safely as scheduled without impacting the recovery efforts."
___
For more NFL coverage: http://www.pro32.ap.org and http://www.twitter.com/AP_NFL.
___
More AP college football: www.collegefootball.ap.org and https://twitter.com/AP_Top25
___
HURRICANE NEWSLETTER - Get the best of the AP's all-formats reporting on Irma and Harvey in your inbox: http://apne.ws/ahYQGtb