The Latest: Heaviest California rains still to come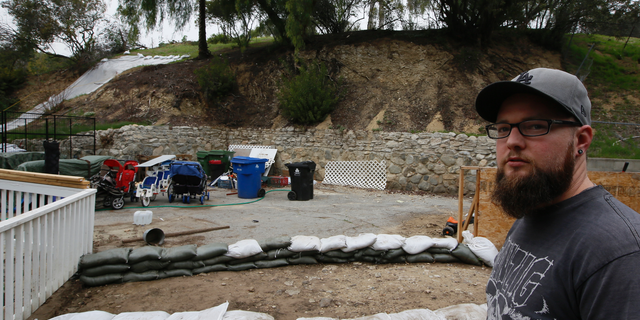 LOS ANGELES – The Latest on a storm that has forced evacuations in California (all times local):
2:20 p.m.
Flash flood watches are in effect across a swath of central and southern California coastal regions and to the east in the Sierra Nevada as a strong Pacific storm moves through the state.
The storm has had varied intensities as well as lulls Wednesday, but the National Weather Service says much more is on the way.
During the evening, Los Angeles County plans to join neighboring Ventura and Santa Barbara counties in declaring mandatory and voluntary evacuations for residential areas near recent wildfire burn scars.
Forecasters say it appears the storm will enter its most threatening phase early Thursday.
The southern Sierra is expected to get a blast of new snow Thursday.
___
9:25 a.m.
The National Weather Service has issued a flood advisory for southern Santa Barbara and western Ventura counties in California as a strong Pacific storm moves through.
The weather service says rainfall rates with a band of rain at midmorning Wednesday have been close to a half-inch (1.14 centimeters) an hour and recent wildfire burn areas will likely experience mud and debris flows.
During a January storm, Montecito on the south coast of Santa Barbara County was devastated by massive debris flows that killed 21 people and left two others missing.
___
6:45 a.m.
Rain from a powerful Pacific storm is falling across areas of central and southern California at risk of mudslides but there are no reports of problems like significant flooding or debris flows.
The storm was being closely watched Wednesday in Santa Barbara County, where a January storm unleashed debris-laden flash floods that ravaged the community of Montecito, killing 21 people.
County spokeswoman Suzanne Grimmesey says debris catch-basins that filled up in January were completely cleared and have so far been fully functioning in the current storm.
Grimmesey says that forecasters expect rainfall to intensify through Wednesday morning.
Many California communities are at risk of storm runoff damage because of large wildfires that have left barren landscapes.
___
11:06 p.m.
A powerful Pacific storm is moving across central and southern parts of California, drenching communities previously ravaged by wildfires and mudslides.
Thousands of residents evacuated their homes ahead of the storm while others were waiting it out and hoping for the best.
Late Tuesday, Los Angeles County authorities told thousands more to be ready to evacuate from neighborhoods in the foothills of the San Gabriel Mountains, which have also been badly hit by wildfires.
Many residents in Santa Barbara and Ventura counties have faced repeated evacuations or advisories since December, when a wind-driven fire grew into the largest in recorded state history and destroyed more than 1,000 buildings.
A January storm unleashed mudslides that inundated hundreds of homes in their community of Montecito and killed 21 people.