The Latest: Forecasters warn of tornado risk in Ohio Valley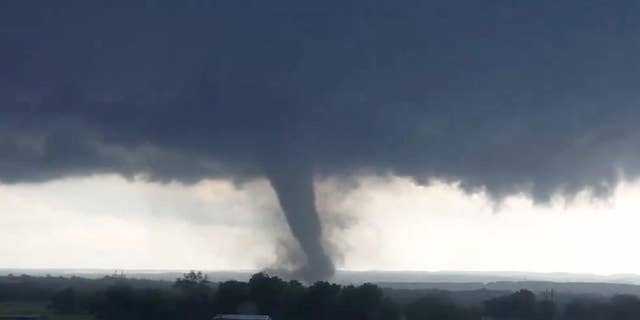 NEWYou can now listen to Fox News articles!
OKLAHOMA CITY – The Latest on severe weather affecting parts of the U.S. (all times local):
6:15 a.m.
Parts of the Great Plains and Ohio Valley could see severe weather Tuesday as two storm systems make their way across the country's midsection.
The Storm Prediction Center says central and northern Texas — including the Dallas-Fort Worth area — could see large hail and powerful winds Tuesday. In the east, Kentucky, southern Ohio, southern Illinois and southern Indiana are all at risk for bad weather, including tornadoes.
So far, the risk is lower than on Monday, when powerful storms spawned tornadoes across the Great Plains, killing two people in Oklahoma.
In all, the Storm Prediction Center received 23 reports of tornadoes in Arkansas, Illinois, Iowa, Nebraska and Oklahoma. The storms also downed trees and damaged buildings in northeast Texas, and dropped softball-sized hail in Lincoln, Nebraska.
___
1:30 a.m.
Two people have been killed by strong tornadoes that swept across portions of southern Oklahoma.
Johnston County Sheriff's Sgt. Stacey Pulley says a man died Monday near the town of Connerville. A storm earlier in the day killed a man in a home near Wynnewood.
Some of Monday's weather was so bad that forecasters declared a "tornado emergency" for the towns of Roff and Hickory, which were in the path of a storm.
The Oklahoma Office of Emergency Management reported the storms destroyed a radio station building in Coal County and an undetermined number of homes in Murray, Garvin and Johnston counties.
Tornadoes were also reported in Iowa and Nebraska, but there were no immediate reports there of injuries or significant damage.