The Latest: Forecasters expect lower crest on flooded river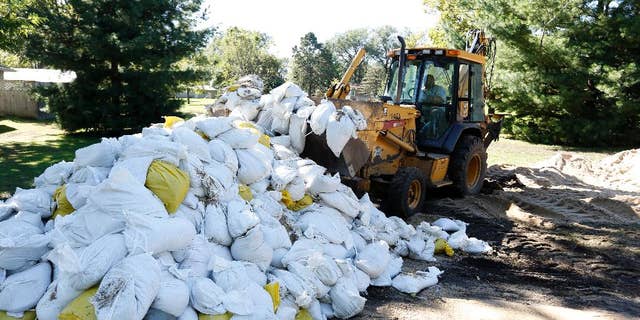 NEWYou can now listen to Fox News articles!
CEDAR RAPIDS, Iowa – The Latest on flooding in Cedar Rapids, Iowa, where the Cedar River is expected to crest Tuesday (all times local):
9:10 a.m.
The National Weather Service has lowered its forecast for the Cedar River's crest in Cedar Rapids.
The river is now expected to crest in Iowa's second-largest city at just over 22 feet, rather than 23 feet.
That's 10 feet above flood stage and considered major flooding, but it's still 9 feet below the record crest in 2008 that caused devastating flooding in the city.
Forecasters said Tuesday morning that they expect the river to crest in the next few hours.
City spokeswoman Sara Baughman (BAHF--muhn) says officials are happy to see the new figure. She says the river is expected to stay at that crest for several hours.
She says city officials are "cautiously optimistic" the city's defenses will hold as the river begins to drop.
The weather service expects the river will be back below flood stage sometime Monday.
___
6:30 a.m.
A city spokeswoman says Cedar Rapids' temporary flood protection system is holding as the Cedar River rises toward its expected crest of 23 feet — 11 feet above flood stage.
At 6 a.m. Tuesday, the water was less than 15 inches from its projected peak, which would be more than 8 feet below the 2008 record that led to devastating flooding.
Spokeswoman Sara Baughman (BAHF'-muhn) says there is some minor roadway flooding early Tuesday from storm sewer backup just west of the river downtown, but that the water is being pumped back into the river. Baughman also says water has risen onto Riverfront Park on the south end of Mays Island, but that it didn't appear to have reached the Linn County Courthouse.
She says there have been no reports of looting inside the evacuation zone.
___
12:10 a.m.
Residents of Cedar Rapids, Iowa's second-largest city, hope a temporary floodwall that is protecting thousands of homes and downtown buildings from the rain-swollen Cedar River will hold as the rain-swollen Cedar River crests.
The river is expected to reach its peak Tuesday morning at 23 feet before slowly falling through the week. Residents fear a devastating flood like the one that hit the eastern Iowa city of 130,000 in 2008.
City crews and residents have been stacking sandbags and building larger barriers for days in anticipation of the high water, which followed days of heavy rain in northern Iowa.
Schools have been cancelled through Thursday and the city's downtown and some neighborhoods are like ghost towns as resident abide by a request to evacuate.