The Latest: Democrat Jones quotes Shelby critique of Moore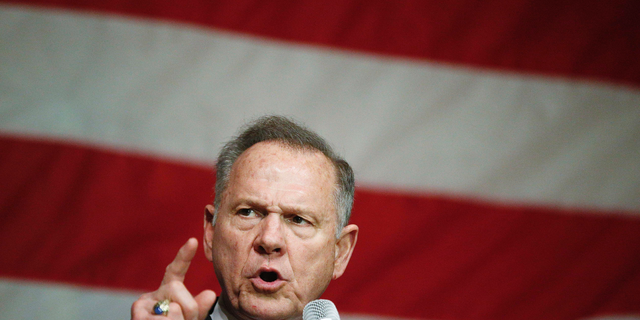 BIRMINGHAM, Ala. – The Latest on the race for the Alabama Senate seat (all times local):
6:20 p.m.
Alabama Democratic Senate nominee Doug Jones is using the words of the state's senior GOP senator in his last-minute push for votes.
In a Sunday night speech at a Huntsville church, Jones repeated Sen. Richard Shelby's remark on a morning talk show that Alabama can "do better" than electing Republican Roy Moore in Tuesday's race for US Senate.
Shelby says he did not vote for Moore, but instead wrote in the name of another Republican.
Jones's campaign has been emphasizing Shelby's statement through the day.
Moore did not hold any public campaign events on Sunday. He has scheduled a Monday night rally with former Trump strategist Steve Bannon.
5:50 p.m.
Alabama voters are getting a recorded phone call in which President Donald Trump says he needs Republican Roy Moore in the U.S. Senate.
The 90-second audio recording released Sunday by the Moore campaign includes Trump saying progress on his agenda will be "stopped cold" if Alabama elects Democrat Doug Jones.
State voters will begin receiving the call on Monday, the day before the election.
Trump calls Moore a conservative who will help get the nation back on track after what he refers to as the "Obama disaster." The president says Republicans need Moore's vote in the Senate, where the GOP has a majority with 52 votes.
Trump calls Jones a liberal who's a puppet of Democratic congressional leaders Nancy Pelosi and Chuck Schumer.
___
5:10 p.m.
Democratic Senate candidate Doug Jones says Tuesday's election against Republican Roy Moore will send a message far beyond Alabama's borders.
Jones told campaign workers during an appearance in Birmingham on Sunday that the vote will tell the world what Alabama stands for. Jones says his campaign "is on the right side of history."
Jones was joined for a second day by New Jersey Sen. Cory Booker, one of just two African American Democrats serving in the Senate. Jones' campaign is painfully aware of their need to drive extraordinary levels of black voters and moderate Republicans to the polls.
Alabama doesn't have any Democrats in statewide office. Jones' campaign has been buoyed by allegations that Moore made improper sexual advances toward teen girls decades ago.
___
11:30 a.m.
Roy Moore's chief strategist is tying the Republican Senate candidate to President Donald Trump's star in Alabama.
Dean Young said Sunday on ABC's "This Week" that the special election is "ground zero" for Trump and that Alabamians who want the president's agenda to be achieved should vote for Moore.
He says: "This is Donald Trump on trial in Alabama."
Trump has urged voters to back Moore over Democrat Doug Jones in Tuesday's election.
Moore's candidacy has been rocked by allegations of sexual misconduct by multiple women.
Young says the women aren't credible. In contrast, a number of senior Republicans in Congress say they believe the women. Trump, however, has raised doubts about the accusers and has criticized Jones as the "liberal puppet" of Democratic leaders Chuck Schumer and Nancy Pelosi.