The Latest: Church opens for first time since shooting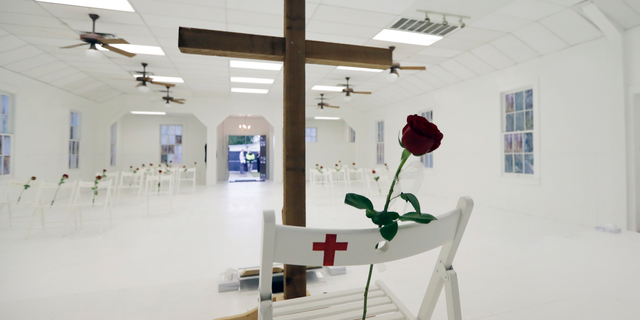 SUTHERLAND SPRINGS, Texas – The Latest on the Texas town recovering from last weekend's mass shooting at a church (all times local):
5:45 p.m.
A line of about 85 people snaked from the entrance of the First Baptist Church of Sutherland Springs and curved around the block as the house of worship opened its doors to the public at 5 p.m. for the first time since a deadly shooting last Sunday.
Associate Pastor Mark Collins says people traveled from as far away as the East Coast to pray at the site of the shooting. He says that while they will be allowed inside the church to take part in the memorial, it was set up with members in mind.
Collins says constructing the memorial wasn't an easy decision because some members have said they never wanted to again step foot in the place where they lost so many friends or family members. But, he says, other members and family of those who were killed needed to see the church.
He says the memorial was a way to honor the victims without focusing on the shooting.
He says the church has reached out to the family of shooter Devin Kelley, and that church members are praying for Kelley's family.
The congregation will hold services on the grounds of the church next week. Collins says those services likely will take place in a makeshift structure.
He says church members will have to decide whether to demolish the church, but plans are also being discussed to build a new structure nearby.
___
4:45 p.m.
A Texas church where more than two dozen people were killed in the deadliest shooting in the state's history has opened its doors to congregants and the public for the first time since the tragedy.
The inside of First Baptist Church of Sutherland Springs had been transformed into a memorial when it was opened Sunday, one week later. Broken windows and ceiling tiles had been replaced. Bullet holes were filled.
But the vibrant church's sandy stained pews, the carpet and all equipment had been removed. The walls, floor and pulpit were painted white.
Twenty-six white chairs — including one for the unborn baby of one victim who was pregnant — were placed where each congregant was sitting when they were shot. A red rose was tied to each chair, and a pink rose for the unborn baby.
Names or nicknames were painted in gold on each chair. A recording of scripture readings from a previous church service played as small groups of people walked around the room silently.
___
2 p.m.
Organizers say their fundraiser barbecue has raised more than $50,000 for the families of those killed in a mass shooting at a Texas church.
Mike Ritch, a chef who co-founded Smokin' Angels BBQ Ministry after Hurricane Harvey battered the Texas coast, said Sunday that the exact tally hadn't been determined but that it exceeded the group's $50,000 goal "by some portion."
He says the group wants to notify the families before announcing the total raised by the weekend event, which was held at St. Mark's Lutheran Church in Adkins, about 15 miles (24 kilometers) from Sutherland Springs.
Plates were priced at $10, but Ritch said dozens of people came through the line and paid more for to-go orders. He says all of the money will go directly to the families.
___
1:15 p.m.
Congregants have departed crying and hugging one another after the first worship service since last week's mass shooting at the First Baptist Church of Sutherland Springs, Texas.
The service Sunday was expected to draw about 500 people. It attracted an overflow crowd to a tent set up a baseball field in the small South Texas town that became the scene of the worst mass shooting in Texas history.
Children also attending began playing on the baseball field as people at a community building are preparing to feed about 350, including families and survivors of the shooting.
Former Pastor Mark Collins says next week's service will be held at the church site.
___
12:50 p.m.
The former pastor at the Sutherland Springs, Texas, church where a gunman opened fire a week ago says the first service since the worst mass shooting in Texas history is the most attended in the congregation's 100-year history.
Former Pastor Mark Collins says the First Baptist Church "is still alive" and is encouraging people to give themselves to Christ. He says those who died would want those supporting them now to stand up and give themselves to Christ.
Church officials had expected about 500 people to attend Sunday's service but dozens more chairs were added. The flaps on the sides of a tent that's serving as the worship site had to be lifted so hundreds more outside could see and hear.
Collins says there's hope, saying it's only been seven days since the shooting and "already this community is back to worship, bound together by faith."
___
12:40 p.m.
The pastor of a small Texas church says evil was responsible for the worst mass shooting in the state's history.
Frank Pomeroy spoke during the congregation's first Sunday service since last weekend's shooting that killed more than two-dozen people at First Baptist Church in Sutherland Springs.
Pomeroy says he wanted to ensure everyone who walked in to the service "knows that those who died lived for their Lord and savior." He says rather than chose darkness as the gunman did seven days ago, "we choose life."
The congregation held the service at a baseball field, setting up folding chairs under a large white tent.
Pomeroy's voice cracked as he paused, and described the victims as "my best friends and my daughter."
Then he wiped his eyes before saying: "I guarantee they are dancing with Jesus today."
The crowd stood, clapped and raised their hands to heaven.
___
11:10 a.m.
Organizers have set up hundreds of folding chairs under a large white tent on the baseball field in Sutherland Springs, Texas, for the first Sunday service since last weekend's mass shooting at the First Baptist Church.
The front three rows are reserved for First Baptist Church members and their families, as a steady rain falls on the tarp roof while church-goers slowly file in. Some are hugging and others are praying or sitting quietly.
People from other churches have dropped off handmade presents such as prayer cloths and tiny wooden crosses and mental health organizations have provided tissues and brought therapy dogs to the service.
Initial plans called for gathering at a community center that could house a few dozen people. But when organizers realized about 500 people were planning to attend, the service was moved outside.