The Latest: Burns, smoke killed California firefighter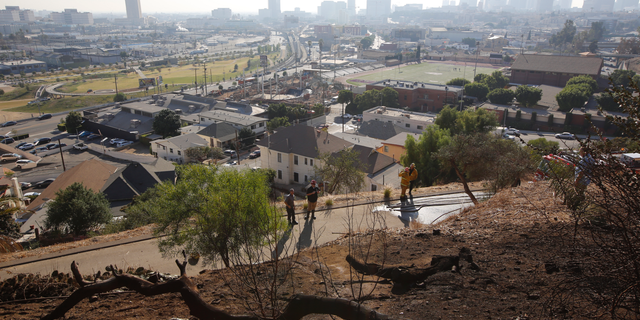 SANTA BARBARA, Calif. – The Latest on wildfires in California (all times local):
10:40 a.m.
A firefighter killed battling a wildfire northwest of Los Angeles died from burns and smoke inhalation.
The Ventura County medical examiner announced autopsy results Saturday for Cory Iverson. However, no other details were released.
The 32-year-old state fire engineer was killed Thursday at the Thomas Fire in Ventura County.
That blaze also was blamed for the death last week of a 70-year-old woman who died in a car crash on an evacuation route.
The fire has burned more than 700 homes and currently threatens the wealthy celebrity enclave of Montecito in Santa Barbara County.
___
9:15 a.m.
Santa Ana winds are again driving an enormous wildfire that's now surging toward a wealthy community in the coastal mountains northwest of Los Angeles.
The Thomas Fire is burning toward Montecito, home to Oprah Winfrey and many other celebrities.
No new evacuations have been called but the National Weather Service says winds in the area are gusting at around 30 mph. State fire officials say the blaze is spreading rapidly west.
Saturday is the 13th day that the Weather Service has declared a red flag warning of extreme fire danger because of dry, gusty conditions.
The fire that began on Dec. 4 is already the third-largest in California history. It has destroyed more than 700 homes and killed a firefighter.
___
6:50 a.m.
Officials say the massive wildfire that California has been battling since early December is now the third-largest in the state's history, with 259,000 acres (405 square miles) burned so far and the flames only 40 percent contained.
In terms of acreage consumed, the fire that started on Dec. 4 now exceeds the devastating Rim Fire in 2013 by 2,000 acres.
Steve Concialdi of the Orange County Fire Authority says the region has had "red flag" conditions for an unprecedented 13 consecutive days. Red flag conditions are when low relative humidity is combined with gusty, strong winds.
Concialdi said, "As of this morning, we're at 259,000 acres and still growing."
___
The fourth-largest wildfire in California history continues to grow and threaten thousands of homes despite armies of fire crews and fleets of bulldozers and aircraft.
The blaze northwest of Los Angeles grew by 3,000 acres overnight and although Santa Ana winds eased on Friday, they are expected to return with a vengeance over the weekend. And the fire is so large that winds on one end may be gustier than those on the other side.
The 11-day-old Thomas fire surging through Ventura and Santa Barbara counties had devoured some 400 square miles of brush and timber and burned more than 1,000 buildings, including well over 750 homes.
It also claimed the life of a firefighter Thursday.
Another 18,000 buildings are still in jeopardy, including mansions in the wealthy enclave of Montecito.
The fire is only 35 percent surrounded despite efforts by some 8,000 firefighters, 32 helicopters and 78 bulldozers.