The Latest: Arraignment for suspected cop killer delayed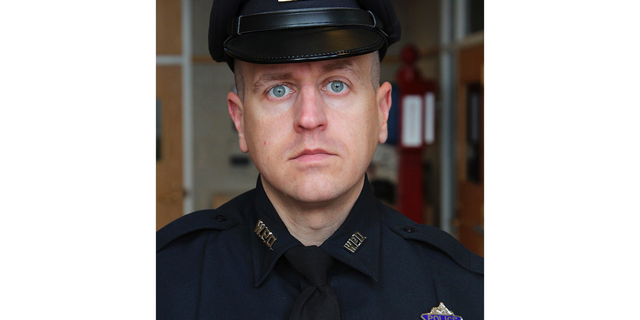 BOSTON – The Latest on the shooting death of a Massachusetts police officer (all times local):
3:45 p.m.
Prosecutors now say a man suspected of killing a Massachusetts police officer as well as an innocent bystander in her own home will not face arraignment right away.
A spokesman for the Norfolk district attorney says the office has been informed that 20-year-old Emanuel Lopes will not be medically available for arraignment Monday.
The spokesman says Lopes may be fit enough for arraignment Tuesday on two counts of murder either at South Shore Hospital or Quincy District Court.
Lopes was shot in the leg by police Sunday morning after allegedly killing 42-year-old Weymouth Officer Michael Chesna and 77-year-old Vera Adams.
Lopes' attorney had no comment Monday.
___
1:50 p.m.
The woman fatally shot in her Massachusetts home allegedly by a man also suspected of killing a police officer has been identified as Vera Adams.
The 77-year-old Adams is identified in court documents as the woman shot Sunday morning in her own home in Weymouth, south of Boston.
Police have described her as an innocent bystander apparently shot by the same man who shot Officer Michael Chesna.
Her sister-in-law and a friend tell The Boston Globe she was a widow with no children.
Neighbor George Camacho told The Patriot Ledger of Quincy that Adams always had a smile for his children on Halloween as he dropped flowers in front of her house Monday.
The suspect, who was shot in the leg by police, is expected to be arraigned Monday on two counts of murder.
___
11:30 a.m.
The mother of a Massachusetts police officer killed in the line of duty several months ago is speaking out about the latest fatal shooting of an officer.
Denise Morency Gannon, the mother of fallen Yarmouth Sgt. Sean Gannon, released a statement Sunday about the death of Weymouth Officer Michael Chesna. Gannon was shot in April while serving an arrest warrant.
Morency Gannon said "Our hearts are broken once again for what can never be justified."
She says lawmakers and the court system fail to adequately support police by allowing dangerous criminals to remain free. She also said gun control needs to be a national priority or "these murders will continue to occur."
Authorities say Chesna was killed Sunday by a man who struck him with a rock before taking the officer's gun and shooting him.
___
10:30 p.m.
A man accused of fatally shooting a Massachusetts police officer with the officer's own weapon and an innocent bystander is scheduled to be arraigned on murder charges.
Emanuel Lopes will be arraigned Monday in connection with the deaths of Weymouth officer Michael Chesna and an unidentified woman, who was hit by stray bullets in a nearby home. It's unclear if Lopes has an attorney.
Norfolk District Attorney Michael Morrissey says Weymouth police were responding to a report of a person driving erratically Sunday morning when they discovered a crashed BMW.
Chesna was trying to locate the driver, when he spotted Lopes allegedly vandalizing a home. Morrissey says that's when Lopes hit Chesna in the head with a rock. Chesna fell to the ground, and Lopes took the officer's gun and shot him.