The Latest: 3.4M chickens, 5,500 hogs dead in Florence flood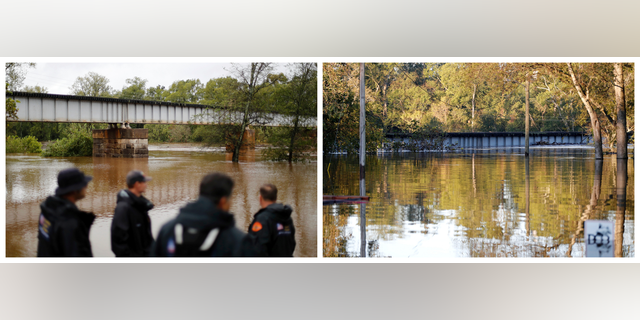 NEWYou can now listen to Fox News articles!
WILMINGTON, N.C. – The Latest on Florence (all times local):
9:45 a.m.
State officials in North Carolina now say 3.4 million chickens and 5,500 hogs have been killed in flooding from Florence. The former hurricane swamped dozens of farm buildings where the animals were being raised for market.
Officials previously had estimated that about 1.7 million chickens had drowned and that the number of potential hog deaths was unknown.
The N.C. Department of Agriculture issued the mortality totals as major flooding continues in the state due to the storm's drenching rains.
Sixteen North Carolina rivers were at major flood stage Tuesday, with an additional three forecasted to peak by Thursday.
___
8:35 a.m.
Officials have identified the two mental health patients who drowned when a van they were riding in was swept away in South Carolina flood waters.
Marion County Coroner Jerry Richardson tells The Associated Press that 45-year-old Windy Wenton and 43-year-old Nicolette Green were being transported by a Horry County Sheriff's Office van between Nichols and Mullins on Tuesday night when the van was swept away by rising waters. Two deputies were rescued from the top of the van, and Horry County officials say they tried to get the women out.
Richardson says the patients' bodies were being recovered Wednesday morning.
Richardson says the incident happened near the Little Pee Dee River, which is one of the bodies of water officials are monitoring for intense flooding following Florence.
___
11 p.m.
Authorities confirm two detainees drowned when a van was swept away in rising flood waters in South Carolina.
Horry County Sheriff's Department spokeswoman Brooke Holden says a sheriff's office van was carrying two detainees and two deputies from Conway to Darlington on Tuesday night when it was overtaken by flood waters. Officials say the van was traveling near the Little Pee Dee River, one of the bodies of water officials in South Carolina are watching closely as water continues to poor into the state from upriver in North Carolina following the heavy rains of Florence.
Marion County Coroner Jerry Richardson confirmed to AP earlier Tuesday that two women died in the incident. Their names have not been released.
Holden says the deputies tried to get the detainees out but couldn't open the doors. High-water rescue teams plucked the deputies from the top of the van.
The incident is being investigated by the State Law Enforcement Division.
Forecasters predict some rivers in the northeastern area of the state might not reach their highest levels until later this week or next week.