'The forgotten ones' Vegas security guards helped save lives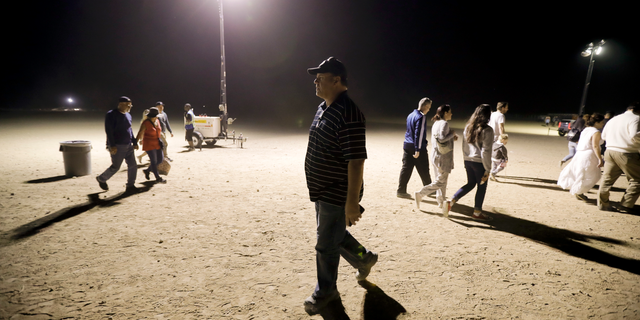 LAS VEGAS – When Air Force veteran Jay Purves first heard the pop-pop-pop at the Las Vegas country music festival, he knew immediately it was gunfire.
Purves was among a force of 200 unarmed private security guards manning the Route 91 Harvest festival Sunday night who jumped into action — lifting people over barriers, hiding them behind pillars and under the stage, and funneling them to exits amid the panic.
One of the Contemporary Services Corporation guards died and two were wounded when a gunman on the 32nd floor of the Mandalay Bay hotel casino opened fire on the outdoor festival, killing 58 people and injuring nearly 500 others.
Now, despite the fresh trauma and losing one of their own, many of the company's guards — "the yellow shirts," Purves calls them — are returning to work security this weekend at major events in Las Vegas, where they will once again be keeping a watchful eye as they stand among throngs of people.
Supervisor Cheryl Metzler put on her uniform Friday to work a UFC weigh-in, her first event since the shooting. She was anxious but stayed composed until it came time to thank other CSC guards who came in from out of state to help.
"I kind of broke down a little bit," she said.
Purves, the vice president of CSC's Las Vegas branch, said private security guards are not always taken seriously because they aren't law enforcement.
"We're the ones often in the background, in the shadows, but we were actually the ones right there in the thick of it all," he said.
The staff was already unsettled before the shooting because a drunken attendee had punched one of their guards in the face Saturday.
Metzler was working Sunday in a command center that resembles a shipping container, watching the concert on seven large surveillance monitors, when someone called to ask if there were supposed to be pyrotechnics at the show.
"We thought fireworks," she said of the popping sound. "But then it kept going."
As people began to flee, the guards fanned out across the venue, coaxing shell-shocked concertgoers too frightened to move to head to a safer spot.
Early in the chaos, Purves got a call on his radio: "Erick's been hit and is down," referring to 21-year-old employee Erick Silva.
Silva, assigned to the front of the stage, off to the side where the soundboard was kept, was shot in the head while helping people climb over a barricade.
Purves started running to him. On the way, he got another call on the radio. A second guard, Jeff Bachman, who was moving Silva away from the stampeding crowd, was shot in the leg.
As the gunfire continued, Purves and the other guards got hold of a bicycle rack, flipped it on its side and used it as a gurney to carry Silva, who was gasping for air. They carried him out to emergency responders before running back in to continue the evacuation of 22,000 people.
"It was complete carnage and chaos," Purves said.
Metzler and others were trapped inside the command post, watching the screens in horror as more shots rang out.
"What I had seen on those TVs — no one should ever see in their life. But I wish everybody could have seen what I'd seen with our people," she said. "Our people, they didn't run."
Another guard, Daniel Rascon, was shot in the arm while trying to get people in wheelchairs off a ramp.
"It was hard, seeing my people out there, not being able to help them," Metzler said. "But then they knew I was in there and they would call me on the radio and I was trying to comfort them."
The guards are still shaken, Purves said.
Purves credits police, firefighters and other first responders with helping save lives Sunday. But the private security guards, "they're the forgotten ones," he said.
"These are working men and women who make 10, 11, 12 bucks an hour, who are in the thick of everything and have to deal with intoxication, evictions, fake tickets, complaints that the beer is too hot and the hot dogs too cold," Purves said. "The yellow shirts are the ones people go to for help."
Silva, who worked for CSC for three years and dreamed of becoming a police officer, will be buried Thursday.
The company is offering counseling to its employees and helping Silva's family with the funeral.
Some guards are taking a break to deal with the trauma.
But others, like Metzler, wanted to be back on the job. She considers her co-workers family.
"I want to be with my people to talk about it. If I'm just sitting home, I'm watching the TV and I don't turn it off," she said. "So this is the best therapy and the biggest reason I wanted to come back."
___
Watson reported from San Diego.
For complete all-formats coverage of the Las Vegas shooting, click here: https://apnews.com/tag/LasVegasmassshooting.