Texas town where church shooting unfolded holds 1st Sunday service since attack
The Texas town that saw horrors unfold one week ago, when a gunman unleashed a hail of bullets inside a church, killing 26 people, held its first Sunday service in the wake of the mass shooting.
Gunman David Patrick Kelley carried out the Nov. 5 attack at the First Baptist Church of Sutherland Springs.
Annabelle Pomeroy, 14, was one of the 26 victims who died.
"I know everyone who gave their life that day," her father, Pastor Frank Pomeroy, said Sunday, pausing to gather himself, "some of whom where my best friends and my daughter."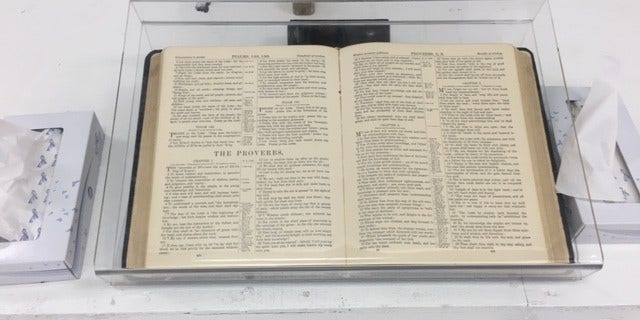 He wiped his eyes before adding, "I guarantee they are dancing with Jesus today."
Congregants wept during the service and a version of "Amazing Grace," led by three singers and a man on guitar, as the voices of hundreds sang along.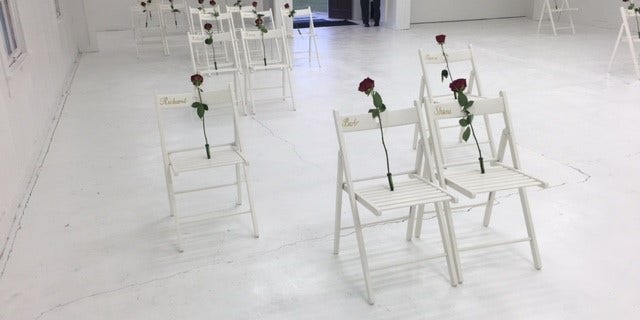 The service was supposed to be held at a community center which could accomodate a few dozen people. It was moved to a tent in a baseball field when organizers realized hundreds planned to show up.
FIRST TEXAS CHURCH SHOOTING VICTIMS LAID TO REST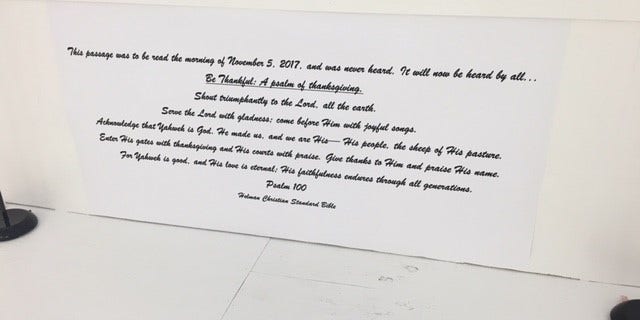 Later Sunday, a memorial opened inside the church. The interior is white from floor to ceiling, and the tribute includes 26 chairs, which include red crosses on the back and roses placed on the front.
The memorial also includes a wooden cross in the center front, as well as a Bible opened to Psalms chapters 149 and 150 and chapters 1-3 of the Book of Proverbs.
Pslam 100, which was going to be read when the shooting began but was never heard, is displayed on the front wall.
On Saturday, about 100 people gathered outside the community center to commemorate Veterans Day and honor the shooting victims, nearly half of whom had Air Force ties.
Fox News' Ray Bogan and The Associated Press contributed to this report.