Texas teen's car stolen, totaled after he stops to help at crash scene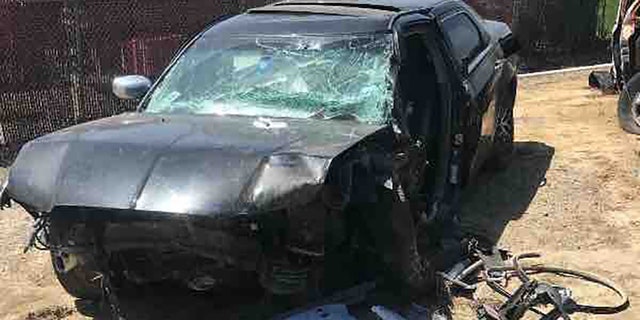 NEWYou can now listen to Fox News articles!
A Texas teen says his car was totaled after he stopped at an accident scene and it was stolen -- by the driver of the wrecked vehicle.
High school senior Jerry Ramirez, 18, called 911 right way when he and friends came across the crash in Royse City last week, Fox 4 Dallas reported.
The Rockwall County Sherriff's Office said Delyn Stampf was operating a pickup truck when he lost control and struck a guardrail, the station reported. His three passengers were injured, including one who was thrown from the pickup.
Ramirez told the station that as he and his buddies were waiting for police to arrive, Stampf, 29, took off in his car, a Chrysler 300.
"I tried to motion for him to stop but he accelerated," Ramirez said. "I was able to move out of the way, luckily."
VAN SMASHES INTO HOME AND KILLS 90-YEAR-OLD WOMAN
Police said a deputy responding to the scene chased after Stamp, according to the station.
They told that station that eventually Stamp crashed the Chrysler in another town and was pronounced dead at the scene.
Police said Stampf's passengers in the pickup said they had been out drinking, the station reported.
Ramirez is now appealing for funds online to purchase a new car. He said in his GoFundMe appeal that his insurance policy doesn't cover theft, only liability.
MAN STRIPS NAKED, DANCES AFTER TRAFFIC ACCIDENT NEAR DETROIT
Still, he said if he sees another accident he probably won't hesitate to stop.
"I think I'd still pull over—just make sure I get my keys out of the car this time," he told Fox 4.