Texas school bus crash sends 32 to hospital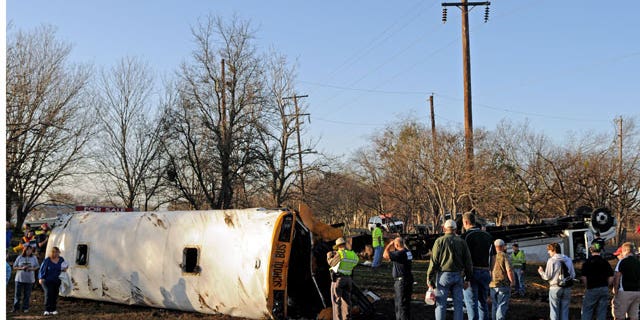 NEWYou can now listen to Fox News articles!
TEMPLE, Texas – A tractor-trailer clipped a school bus full of students Tuesday, flipping the bus onto its side and sending 32 people — 29 of them children — to a central Texas hospital. Police said a 9-year-old boy was ejected through the escape hatch in the bus roof, and the bus driver was knocked unconscious.
The accident occurred about 7:30 a.m. on Farm-to-Market Road 93 on the southeastern outskirts of Temple, about 60 miles northeast of Austin. Trooper Harpin Myers of the Texas Department of Public Safety said a hardware truck apparently ran a stop sign when it hit the Academy school district bus. Conditions were foggy, but it was unclear whether that factored into the crash, Myers said.
Three of the 29 children being treated were admitted to the hospital, one in critical condition, while the other 26 were discharged, said Katherine Voss, a spokeswoman for the Scott & White Memorial Hospital in Temple. Academy school Superintendent Kevin Sprinkles said the three were expected to recover, although "they all face a long road" to recovery.
The bus driver also was listed in critical condition, but both of the other adults, including the truck driver, were treated and discharged, Voss said.
Sprinkles said the bus was carrying about 38 children from all grade levels and was on its way to drop students off at the first of three school locations when the crash happened.
Christina Mendoza said she was driving to work when she came upon the accident scene and stopped to help.
"There was a bunch of little ones all scraped up, and they were all alone," she told the Temple Daily Telegram.
Mendoza said she has teenage children who usually take the bus but they did not on Tuesday.
Counselors were to be available for students at the Academy schools on Wednesday, Sprinkles said.