Texas police officer stops to join kids' water-balloon fight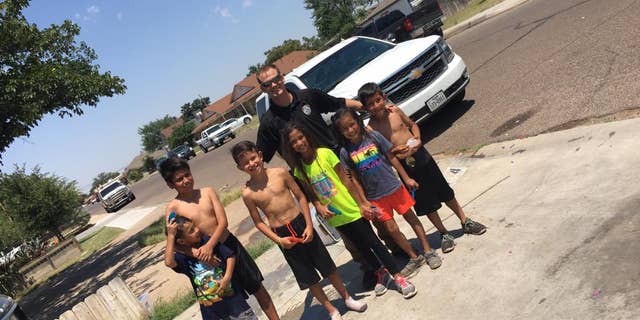 After responding to a call in a Texas neighborhood on Monday, a police officer stopped to play water balloons with the neighborhood kids.
"He stopped to help the girls tag team on the boys," said Punam Pallanes, a parent in Midland.
TEXAS POLICE BUY NEW AC UNIT FOR WWII VET

One of the kids, Sebastian Galindo, said Police Officer Jordan Oliver returned with gifts of water balloons and water guns to play with them after the call, for a domestic disturbance across the street.
"A cop came and started throwing them at us," Calob Pallanes said. Parents of the kids say it was the lesson he left with them that they won't forget, News West 9 reported.
"He was telling me, 'I just want them to have respect for police officers, make sure they pick up the trash, say yes ma'am, no sir,'" Punam said.
TEXAS POLICE ARREST MOM OF BOY LEFT IN MEXICAN WAREHOUSE

Officer Oliver said it was all so they would grow up with respect for police and learn manners.
"I'm going to be one when I grow up," Pallanes said.
Punam Pallanes' Facebook post to the Midland Police Department has had more than 200 shares and over 900 likes.