Texas deputy finds 'starving' kittens in gym bag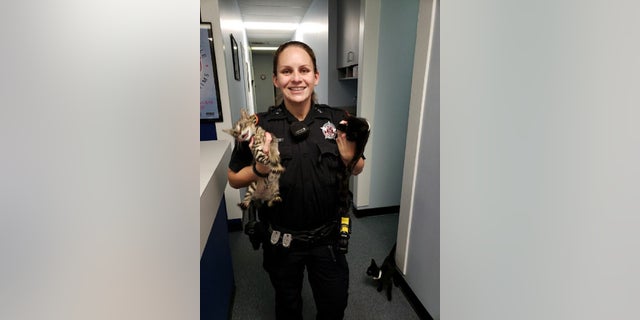 A Texas deputy who responded to a "suspicious gym bag" found that it actually contained three malnourished kittens, The Houston Chronicle reported.
The Harris County Constable's Office Precinct 5 in Houston shared details about the early Tuesday morning incident in a Facebook post.
The office said deputies were called "to investigate a suspicious gym bag left on a median. The caller told our dispatchers that the bag was 'moving.'"
Deputy Debra Albert responded and discovered the animals.
Albert told Fox News she found the cats at about 3:30 a.m. Tuesday.
"They were really skinny — as soon as I got 'em, I stopped at Walgreens," she recalled, adding that the drugstore was "the only thing open."
NEW YORK MAN WITH AUTISM USES BOY SCOUT SKILLS TO SURVIVE 50 HOURS IN WOODS DURING HEAT WAVE
Albert purchased cat food, took the cats to a station and fed them.
Though they were thin, she said the kittens "appeared to be clean," had on flea collars and were flea-free.
The kittens were eventually given to animal control.
"[Albert] and Deputy Diego Loucel took care of them until they could be turned over to one of our Animal Crimes deputies who took the abandoned little ones to the proper animal control authorities to get them examined by a veterinarian," the constable's office said.
The Facebook post included several snaps — one of which showed a cat on a couch while next to a desk phone.