Texas declares state of disaster for 30 counties ahead of storm
Texas Gov. Greg Abbott declared a state of disaster for 30 counties Wednesday ahead of the expected landfall of the former Tropical Storm Harvey.
Abbott also ordered the Texas Division of Emergency Management's State Operations Center to elevate its readiness level in preparation for the storm's arrival.
The remnants of Harvey have reformed in the southern Gulf of Mexico, prompting the National Hurricane Center to issue hurricane, tropical storm and storm-surge watches Wednesday for parts of the Texas coast.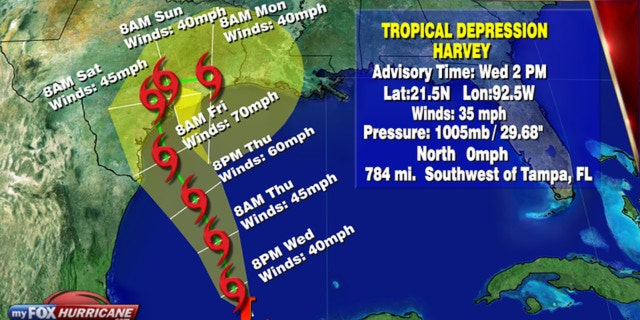 In its 1 p.m. ET advisory, the weather service said Harvey is located off Mexico's Yucatan Peninsula, 535 miles south-southwest of Port O'Connor, Texas with maximum sustained winds near 35 mph, and was nearly stationary.
The NHC said the storm should continue on a track toward the northwest over the next 48 hours, and is likely to approach the Texas coast by "late Friday."
"Some strengthening is forecast during the next 48 hours, and Harvey could become a hurricane on Friday," the NHC said.
There is now a storm surge watch issued on the coast of Texas from Port Mansfield to High Island, a hurricane watch from north of Port Mansfield to San Luis Pass, and a tropical storm watch from the mouth of the Rio Grande along the border with Mexico to Port Mansfield, and from north of San Luis Pass to High Island.
"Interests in southwestern Louisiana should monitor the progress of this system for possible watches this afternoon," the agency added.
TRACK THE STORM AT MYFOXHURRICANE.COM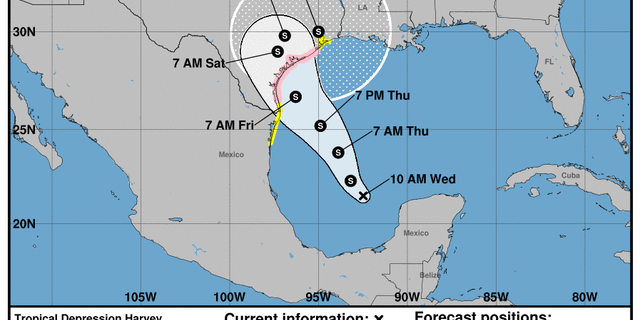 Harvey is bringing the threat of prolonged heavy rain and "life-threatening flooding" for portions of the coast from northeastern Mexico to southern Louisiana into the coming week.
Texas could also see storm surge and tropical storm- or hurricane-force winds, the advisory said.
Officials in Harris County are monitoring the forecast and keeping an eye on areas known for flooding, FOX26 Houston reported.
Along the coast in Galveston, county officials are reminding residents to prepare for a rain event, and have their supply kits ready in case there are any power outages.
"Keep your fuel tank filled up, make sure that you have some water, you have some supplies at your house," Niki Bender with Galveston Emergency Management told FOX26 "Any type of preparations. You have things outside that might be loose and might fly, you can take those in and get them taken care of now."