Texas day care destroyed in fire, no injuries reported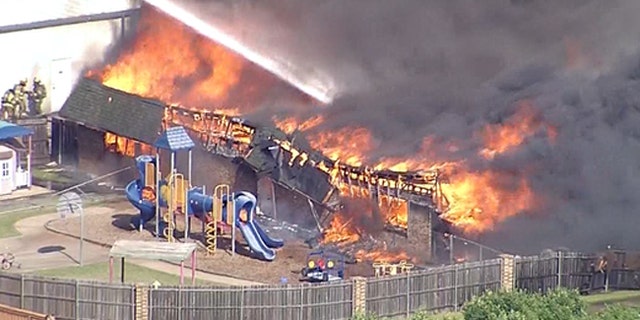 Gusty winds likely fueled a fire at a Christian school and childcare center in Mesquite Wednesday afternoon.
Around 50 children and staff were evacuated as the fire quickly engulfed the school. The two-alarm fire happened at the Appleseed Academy in the 1000 block of Tripp Road.
Video from SKY4 showed just how massive the fire was as it accelerated quickly to consume the Appleseed Academy in Mesquite. Strong winds whipped flames so high that it was upgraded within minutes to two alarms.
Marcus Ortiz says when he drove up to the Christian school to get his daughter early, he saw the smoke. Staff and kids were already evacuating.
HOUSE CRASHES INTO ARKANSAS BRIDGE AFTER SEVERE STORMS
"And all of a sudden, it started growing. It was just bad," he recalled. "I just jumped out of the car and called my wife. Still a little shocked, you know."
Barbara Kilpatrick, the owner and director of the school, said there were around 50 kids inside when the fire started just after 5 p.m. and speculated the cause may be one of the air conditioners.