Texas County debates Confederate monument removal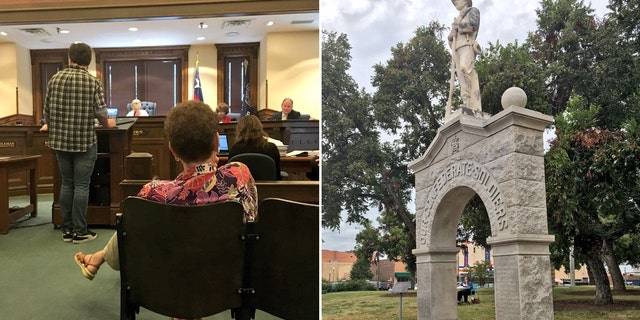 Leaders of Denton County in Texas are debating how to handle a Confederate monument that was commissioned 99 years ago and stands in Denton Square.
According to Fox 4, Denton County Judge Mary Horn said she initially suggested the addition of a plaque to provide more context of the monument's history. However, at a public session asking for residents' input on Tuesday, people voiced divergent views about how to proceed.
"I'm proud of my history," one woman said, reports Fox 4.
However, another man reportedly said the monuments don't honor his ancestors, adding, "They don't honor anything except an illusion of the South that never existed. When I see this statue still standing I feel nothing but shame."
The grey marble monument, which stands over 12 feet tall, was erected in 1918 and is comprised of an archway topped by a Confederate soldier. An inscription in all capital letters reads "Our Confederate Soldiers" on the front of the archway.
The monument was vandalized with the words "This is Racist" in July and the debate over how to handle it comes amid a nationwide reckoning over whether these monuments are racist or simply about heritage.
Horn said there may be a need for more than one committee to address the issue and a potential plaque, but also the debate surrounding the monument's very existence.