Texas church shooting: Gov. Abbott joins more than 100 at prayer vigil near murder scene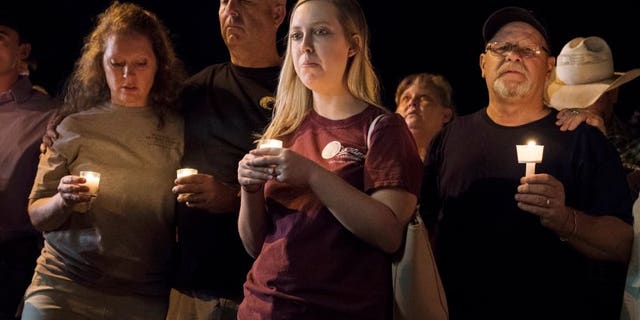 More than 100 people gathered after dark for a prayer vigil on a grassy street corner within sight of the church where the deadliest mass shooting in Texas' history occurred.
Attendees, including Texas Gov. Greg Abbott, lit candles while some wept and others hugged Sunday night. They could see the church sign lit up and emergency lights flashing.
The vigil was across the street from a gas station convenience store where law enforcement officials say the shooter stopped before the attack.
Mike Gonzales, who does not attend the church but lives nearby said: "The people of this church are wonderful people."
Gonzales added, "We're coming together to pray for them and show the world that now, in the midst of darkness, there is light."
Authorities say 26 people were killed and about 20 wounded in the attack on the First Baptist Church in Sutherland Springs, a community 30 miles southeast of San Antonio.
The victims ranged in age from 5 to 72 years old.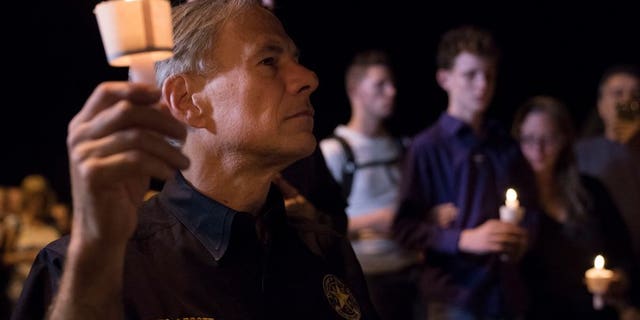 One of those killed was 14-year-old Annabelle Pomeroy, the church pastor's daughter.
Sherri Pomeroy, wife of Pastor Frank Pomeroy, said in a text message that she lost her daughter "and many friends" in the Sunday shooting.
Multiple sources speaking to Fox News identified the gunman as 26-year-old Devin Patrick Kelley.
Air Force spokeswoman Ann Stefanek said records confirm that Devin P. Kelley served in Logistics Readiness at Holloman Air Force Base in New Mexico from 2010 until his discharge. The date of his discharge and the circumstances under which he left the service were not immediately available.
In a brief statement, the Pentagon said additional details about his time in the Air Force were not immediately available.
President Donald Trump, speaking from Tokyo during his trip to Asia, called the shooting an "act of evil," and added: "Through the tears and through the sadness, we stand strong."
The Associated Press contributed to this report.