Texas boy, 9, has lofty goals ahead of National Rodeo Finals
A 9-year-old Texas boy is off to prove next month at the National Rodeo Finals in Las Vegas he has a work ethic and discipline beyond most adults.
Third-grader Lealond Henderson has spent the first half of this year as the number one ranked mini-bareback rider in the world. But being on top of the Pee Wee Division has come with some hard hits -- even mild concussions.
"And I had a big ol' rainbow across my head where a horse kicked me when I landed on my hands and knees," Henderson told FOX4 News.
The 9-year-old is one of the lightest riders in the Pee-Wee division, weighing in at 55 pounds.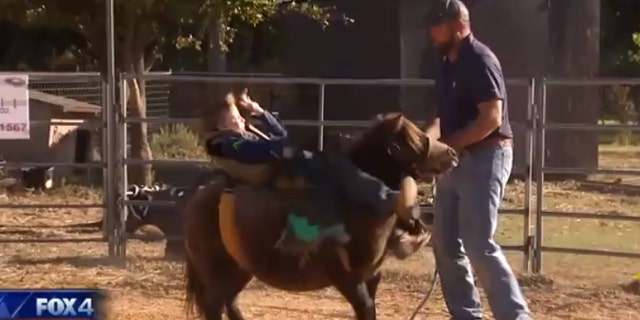 "He has a natural talent to do what he's doing," his dad Jimmy Henderson, told FOX4. "And he's been good at it ever since he's 3 years old."
His parents said they plan to go as far with the riding as their son chooses.
"Because there are moments where he wants his Mom, so that's a good feeling too," said his mother, Deborah Henderson. "But I know he's got it covered."
While the 9-year-old's rank has slipped to second in the world in the past few weeks, he aims to regain the top spot in Las Vegas in December.
"There's a lot of tough kids to compete against," he said. "So this will be a pretty tough matchup."