Texas border patrol agents find 6 illegal immigrants trapped inside cabinets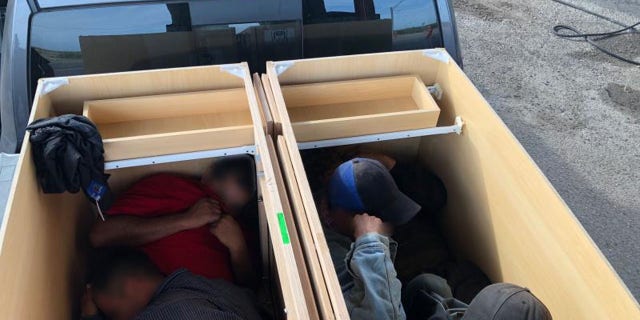 Six illegal immigrants from Mexico were found Monday tightly packed inside cabinets that were being transported over the border in Laredo, Texas.
Laredo Border Patrol agents, assigned to the checkpoint at U.S. Highway 59, discovered them after a service canine alerted the agents to the possible presence of concealed humans and/or narcotics in the truck.
The driver of the truck, a U.S. citizen, was arrested at the checkpoint and then turned over to Homeland Security Investigations for prosecution.
Customs and Border Patrol said the incident highlights the dangers illegal aliens face at the hands of smugglers, placing them in dangerous conditions.
The six Mexicans were trapped inside the large cabinets with no way to escape, as the cabinets were tightly packed with ratchet straps on the outside.
"This rescue illustrates how Border Patrol works not only to enforce laws, but to protect the sanctity of life along the border," said Greg Burwell, Laredo Sector Assistant Division Chief. "We will always work diligently to disrupt and degrade criminal organizations that constantly put people's lives in danger. Also, we will do whatever it takes to save lives and prevent people from being subjected to dangerous, deplorable situations."