Texas bill seeks to label attacks against first responders as a hate crime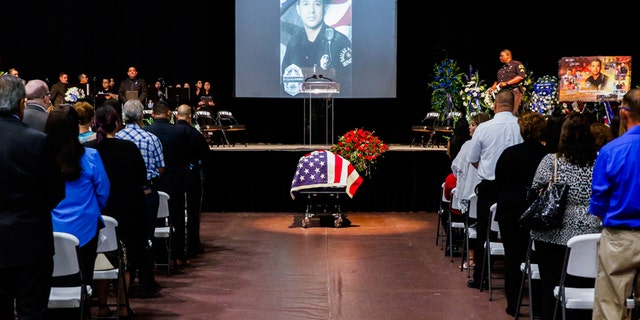 The father of a Dallas police officer murdered in the July ambush says he fully supports a sweeping new hate crime bill.
The father of Patrick Zamarripa says he wants his son's murder to have a purpose and hope a Texas bill, designed to protect first responders, does that.
Rick Zamarripa knows nothing he does will bring his son back. But he hopes by pushing new legislation to make attacking police officers a hate crime will give his son's death meaning.
MARYLAND POLICE OFFICER HONORED FOR HEROISM AFTER APARTMENT EXPLOSION
"It needs to stop," he said.
Rick goes to visit his son's grave every week.
Patrick was a five-year veteran of the Dallas Police department. He was one of the five officers killed in the July ambush.
"Patrick was there to make sure everybody was going to be safe," Rick said.
Rick says his son is why he's working to get a new bill passed that would increase penalties for attacking any first responder, including firefighters and EMTs, and make it a hate crime.
OH GIRL FACEBOOK MESSAGES POLICE FOR HELP ON MATH HOMEWORK
"I'm on a mission to help stop all these hate crimes against police officers — anything I can do," he said. "If I can save a police officer's life or even a civilian's life, I'll have accomplished something. Pass that law. It has to be passed. We need to protect our officers."
According to law enforcement groups, the number of officers killed in 2016 reached its highest level in five years.
The bill's main backer, Representative Jason Villalba of Dallas, says the bill is to help prevent attacks like the ones on officers in Dallas, San Antonio and Baton Rouge.
"Will it end attacks on police officers? No," he said. "But will it start the process of beginning that process. Yes, we do believe it will."