Texas 14-year-old arrested for bringing homemade clock to school after teacher said it looked like a bomb
A Texas high school freshman said he was arrested Monday after one of his teachers said a homemade clock he had brought to school looked like a bomb.
The Dallas Morning News reported late Tuesday that Ahmed Mohamed, 14, had been suspended from MacArthur High School in Irving. Police said Wednesday that Mohamed would not be charged with a crime and they considered the case closed.
"There's no evidence to support the perception he intended to create alarm," Irving police chief Larry Boyd said.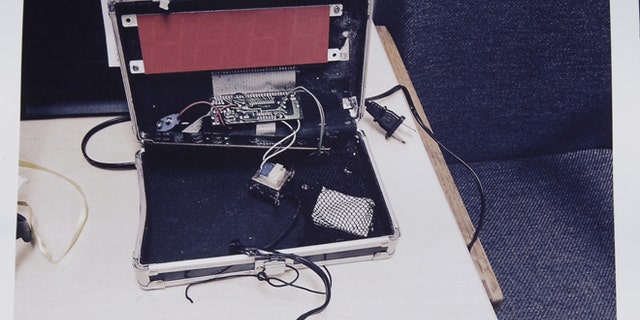 The incident went viral on social media and the hashtag #IStandWithAhmed was the top non-promoted U.S. trend on Twitter early Wednesday morning. Some supporters alleged Mohamed was arrested only because of his name, or the way he looked. Others claimed the situation was a case of Islamaphobia.
President Barack Obama tweeted from his @POTUS account to Mohamed: "Cool clock, Ahmed. Want to bring it to the White House? We should inspire more kids like you to like science. It's what makes America great."
Boyd said authorities would have reacted to the incident with the same caution if it had been a white student.
"Our reaction would have been the same either way," he said. "That's a very suspicious device. We live in an age where you cant take things like that to a school."
Mohamed told the News that he built the clock in about 20 minutes Sunday evening using a pencil case, a circuit board, and a power supply wired to a digital display. Mohamed said he showed it to his engineering teacher Monday morning.
"He was like, 'That's really nice,'" Mohamed told the paper. "'I would advise you not to show any other teachers.'"
Later in the day, the News reported, Mohamed's English teacher complained when the clock beeped in the middle of a lesson. When Mohamed showed her the device after class, he claims she told him, "It looks like a bomb."
"It doesn't look like a bomb to me," Mohamed says he told her. The teacher kept the device, and the school's principal and a police officer pulled Mohamed out of class and brought him to a room where five other officers questioned him and searched his belongings.
"It could reasonably be mistaken as a device if left in a bathroom or under a car," Irving police spokesman James McLellan told the News. "The concern was, what was this thing built for? Do we take him into custody?" McClellan admitted that Mohamed had always maintained the device was a clock and officers had no reason to believe the contraption is dangerous.
Ultimately, the paper reported Mohamed was taken to a juvenile detention center, fingerprinted, and released to his parents, who claimed their son was singled out because he is Muslim.
"He just wants to invent good things for mankind," Ahmed's father Mohamed told the News. "But because his name is Mohamed and because of Sept. 11, I think my son got mistreated."
The Council on American-Islamic Relations is investigating the incident. Alia Salem, the director of the organization's North Texas chapter, said the case "raises a red flag" and "seems pretty egregious."
Boyd said he hopes the incident doesn't sully the relationship between Irving's Muslim community and the police department.
"Obviously situations like this make it challenging as we work on relationships with a community," Boyd said. "We have spent a lot of time and energy and have worked well with our Muslim community. I do not expect that to stop."
During his afternoon briefing, White House press secretary Josh Earnest told reporters the Obama administration viewed the case as a "teachable moment."
"This episode is a good illustration of how pernicious stereotypes can prevent even good hearted people from doing good work," Earnest said. "The White House was pleased to extend an invitation to Ahmed to participate in Astronomy Night. We'll bring together NASA scientists, others to spend time with young people. It will be an opportunity to talk about science, the solar system. It should be a good event. We're hopeful he'll feel right at home."