Terrifying image of cop being killed goes viral after Dallas attack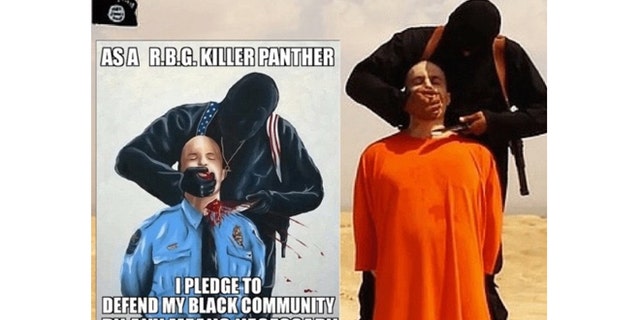 A horrifying image of a cop having his throat slit by a figure in black has gone viral on Facebook and Instagram in the wake of last week's murders of five Dallas police officers, despite complaints from law enforcement groups and other social media users.
The image went up on Wednesday, more than 24 hours before the sniper attack in Dallas that also left seven other officers injured, renewing calls on social media platforms to better monitor content posted.
"This kind of post is disgusting and dehumanizing to law enforcement and it is encouraging violence," said Jonathan Thompson, executive director and CEO of the National Sheriffs' Association, which represents more than 3,000 sheriffs across the country. "Whether it is depicting a journalist, teacher or cop being beheaded, this has no place in our society."
Cleveland Browns running back Isaiah Crowell posted the image on Instagram last week, before the sniper attack, and then took it down and issued an apology through the team on Monday. The incident has prompted some critics to call for his release.
Law enforcement advocates say the image goes well beyond free expression, and actually glorifies the murder of cops.

"We find these images appalling because they promote nothing more than hate, violence, and terrorism," said Sara Slone, spokesperson for the advocacy group, Concerns of Police Survivors – C.O.P.S., which promotes hope and healing for the loved ones of police officers killed in the line of duty. "C.O.P.S. remains focused on the surviving families of the officers that have been murdered in recent days, along with the other 37,000 survivors across the nation."
Experts do not yet know who is behind the horrifying image, but say it could draw a link between terrorists and domestic protesters because it appears to photoshopped from video of an ISIS execution.
"The cartoon image is a clear rendering of the Islamic State's execution by Jihad John of journalist James Foley in 2014 - even down to the gun strap Jihadi John wore, which is recreated in the image of the US flag," said Veryan Khan, editorial director of the U.S.-based Terrorism Research & Analysis Consortium. "Ironically, the Islamic State has picked up on the propaganda material and is now using the same image on its social media pages, including on the media site Telegram."
According to posts received by FoxNews.com from Facebook users, the image has been up since at least July 6 and was shared some 8,000 times. When Facebook users reported them to Facebook management for violence and inappropriateness, users claimed the social media giant said the images were not a violation of its posting policy.
"It was reported by numerous sources to Facebook, but Facebook would not remove it and said it did not violate their terms and conditions," said a spokesperson for GIPEC, a software company that monitors illegal activity on the Internet.
Posts promoting, celebrating or glorifying violence will be removed, including the recent images of an image of a policeman being beheaded, a spokesperson for Facebook told FoxNews.com on Monday. However, violent photos and graphics would be allowed if they condemn the violence.
Facebook gets millions of reports each week that its analysts must examine, the spokesperson said of the initial refusal to take down the posts and the length of time Facebook took to respond.
Instagram, which is owned by Facebook, didn't respond to media inquiries from Foxnews.com, but the images have gone viral on that medium, according to a spokesperson for GIPEC.
An Instagram user, Rambizzy, who has 5,822 followers, promotes the slaughter of the policeman as well as "anarchy."
Another Instagram user that reposted the image of the police beheading used the hashtag "#blacklivesmatter this is war" in addition to #killpigs.
"This is a great example of social media that goes viral very quickly. Once the information is posted to these platforms, anyone can randomly copy it and post it especially when the original was up for at least three days," said the spokesperson for GIPEC.
Users add a hashtag to unite and promote their message to other people on that social media with the same hashtags.
"The way social media works these days, people do not really 'follow' or 'friend' others, but instead read hashtags and look for further information on that hash tag," Khan said. "Islamic State learned this social media trick early. The technique now appears to be used by people and groups promoting violence against police."