Terminally ill Arizona father of boy taken off plane over allergies dies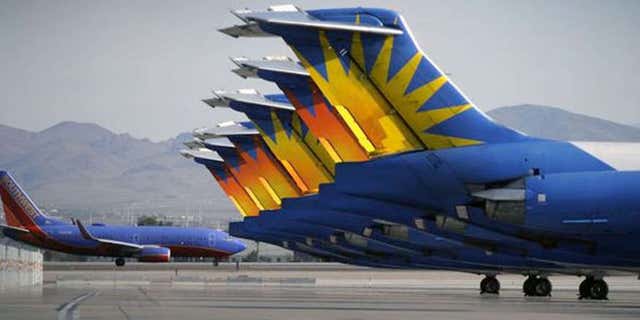 The terminally ill father of an Arizona boy, who was kicked off a plane for having an allergy attack in February, died Thursday at a hospice facility.
George Alvarado lost the battle with esophageal cancer, his wife, Christina Fabian of suburban Phoenix said Friday.
Alvarado, Fabian and their 7-year-old son Giovanni, visited Washington state last month as part of a buck-list wish for Alvarado and to help take Giovanni's mind off his father's illness.
The family was on an Allegiant flight in Bellingham, Wash. bound for the Phoenix area when the boy had an allergic reaction to some of the dogs on board the plane. The family initially tried to move their seats but airline officials said an on-call doctor recommended that they get off the plane.
Fabian said the family had no issue with being removed but did object to several passengers vigorously cheering and clapping when they left. According to Fabian, Giovanni became extremely upset.
In an interview with KING 5, Giovanni cried as he recalled the clapping that erupted from the back of the plane.
"My dad's sick with Stage 4 throat cancer," Giovanni said. "And that made me really sadder when I was already sad. I'm sad this has to be a memory with my dad."
Allegiant apologized to the family and they were put a new flight back home to Phoenix Wednesday after their trip to visit family in the town just south of the Canadian border.
"If we needed to get off, that's fine," Fabian said. "But the disgusting behavior of the adult passengers, you just don't expect that from adults at all."
Fabian said her husband will be buried in Los Angeles.
The Associated Press contributed to this report.