Tennessee troopers take to truck to nab texters
NASHVILLE, Tenn. – State troopers are hiding in plain sight as they try to recapture the attention of distracted drivers.
Their full-size truck is outfitted with a blue light bar and Tennessee Highway Patrol (THP) decals. Yet many passing motorists continue to text and drive, apparently unaware of the uniformed trooper peering down from the cab.
"Folks aren't looking for rigs like this, that belong to us, that are used for these enforcement initiatives," said THP Sgt. Josh Brown.
"It's not a covert operation."
The truck's high vantage point allows troopers to spot drivers who keep their phones below window level. When they spot a violator, they radio a description of the vehicle to troopers in conventional police cars to make a traffic stop.
"It seems like people have the attitude, 'Everybody does it. And this one time isn't gonna matter,'" Sgt. Brown said. "Unfortunately, many times those distractions do end up in crashes."
Distracted driving, including texting and cell phone use, plays a role in 26 percent of traffic fatalities, ranking just behind speeding (30 percent) and alcohol use (31 percent), according to data compiled by the National Safety Council (NSC), a nonprofit public interest group chartered by Congress.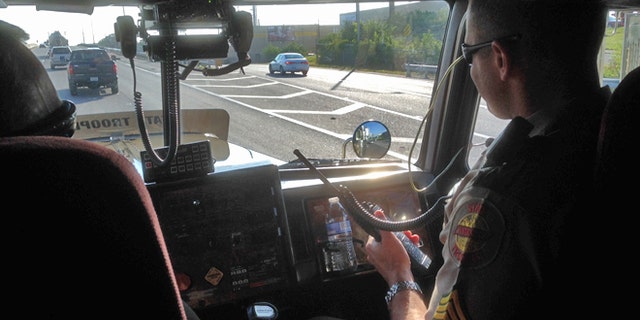 "This Labor Day weekend, if we could have no drunk drivers, no distracted drivers and people just slowed down a bit, hundreds of lives would be saved," said NSC President Deborah Hersman.
Around the nation, police are becoming increasingly creative in their efforts to catch texting drivers. In some municipalities, cops have posed as panhandlers or construction workers to get a closer look inside passing cars.
But the Tennessee Highway Patrol's strategy is different.
"It's not a covert operation," THP Lt. Bill Miller said, standing in front of his agency's Peterbilt police truck. "We're not trying to hide it. We're very proud of it."
Seized in a drug bust, the truck allows state troopers to spot hazards beyond texting, such as safety belt and child seat violations. Although the idea of cops watching from above may make some motorists uncomfortable, police insist it's all in the name of safety.
"We know that the truck is saving lives," Lt. Miller said. "We know that beyond a shadow of a doubt."