Tennessee sheriff in legal showdown with atheist group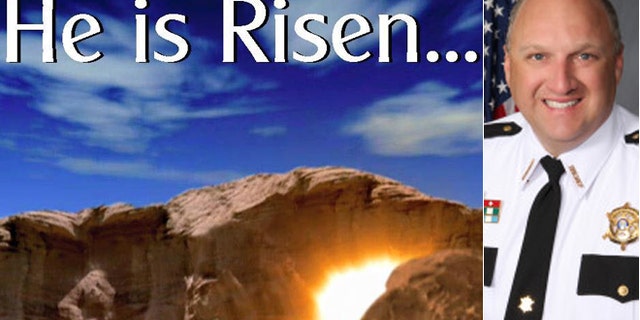 A Tennessee lawman who posted an Easter message and other religious-themed comments on Facebook said Tuesday he is ready for a legal showdown with an atheist group that accused him of violating the Constitution.
Bradley County Sheriff Eric Watson, who had the message posted on the department's Facebook page on Easter, said he is considering a countersuit against American Atheists and a woman identified as "Jane Doe," after they sued him in federal court over the message.
"Today is one of the most historic days; not only did Jesus die on the cross for our sins, but he rose on this day," read the post. "Jesus paid the ultimate sacrifice, and offered himself for our sins. This day represents the best gift any of us could receive, which is 'Eternal Life' with our Heavenly Father."
Watson says the response to the post has been overwhelmingly positive.
"It has come to a point I can't even keep up with the positive and ongoing images, texts and emails we have received supporting this effort in standing up for our religious freedom," Watson told the Cleveland Daily Banner. "I am up until 2 and 3 o'clock in the morning responding."
American Atheists denounced both the message and the apparent scrubbing of comments critical of the Easter post and Watson's religious views. The group's federal complaint charged that Watson's religious post and subsequent deletion of critical comments "have caused and are causing immediate and irreparable injury, loss or damage" to the plaintiffs.
In a letter to the sheriff the day after Easter, the Cranford, N.J.,-based atheist group said it had received a complaint from a Bradley County resident about the message and noted previous ones praising a recently deceased county resident as "a man of God," decrying the dumping of tires in a church parking lot and wishing readers a "Merry Christmas."
"I would like to make clear that neither the person who complained nor American Atheists has any issue with Sheriff Watson's personal religion," wrote Amanda Knief, national legal & public policy director for American Atheists Legal Center. "We believe strongly in the rights of individuals to their personal beliefs, religious or non-religious.
"However, the instances we have specified above are not about Sheriff Watson's personal religious beliefs — they are all done in his official and professional capacity as sheriff," the letter continued.
The atheist group sued in the U.S. District Court for the Eastern District of Tennessee at Chattanooga on behalf of "Jane Doe," a Bradley County resident whose name – Louise Crawford -- was later inadvertently revealed by her lawyer, according to the Daily Banner.
Watson said his countersuit may focus on the atheist group's claim he censored the posts of residents in violation of their freedom of speech. The Alliance Defending Freedom has offered to represent the sheriff.