Teenager arrested in vicious attack of Jewish man in Brooklyn
A teenager was arrested Monday in connection with the vicious beating of a Jewish man -- an assault that reportedly occurred fewer than 30 minutes after the suspect was released from New York City police custody for an unrelated shoplifting incident.
The alleged attack took place just before 4 p.m. on Monday at the intersection of Empire Boulevard and Albany Avenue in the Crown Heights neighborhood of Brooklyn.
Surveillance video shows the unidentified teenager accosting the victim while crossing the street with a large stick. The victim attempts to flee and is seen running to a nearby laundromat, CrownHeights.info reported.
The son of the laundromat's owner tried opening the door to help the victim, but he couldn't open up before the man was hit in the back and shoulder, a blow that broke the stick.
NEW YORK CITY JEWISH MAN CLAIMS ATTACKER YELLED 'ALLAH' AND 'ISRAEL' DURING BEATING CAUGHT ON VIDEO
The perpetrator threw what was left of the weapon at the victim – further injuring him and another bystander inside the laundromat, CrownHeights.info reported.
The entire incident was caught by several surveillance cameras, which shows the teenager fleeing from the scene and towards Lefferts Park as multiple witnesses chased after him.
NYPD officers and the Shomrim, a volunteer Jewish safety patrol in the area, were called to the scene. The teenager was arrested at the park soon after.
Photos from the incident show several witnesses holding down the teenager while waiting for police to arrive.
Police reportedly said they had released the teenager fewer than 30 minutes before the alleged assault after he was accused of shoplifting from a nearby bodega. He had been set free on a desk appearance ticket in that case.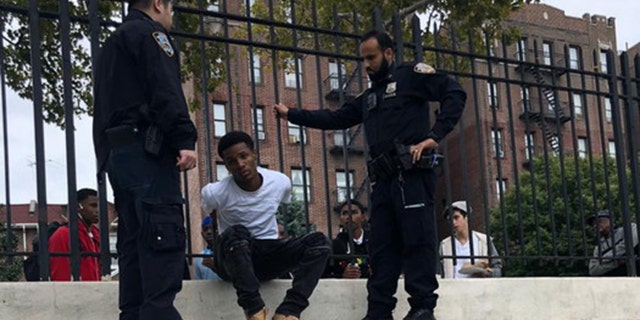 Following the arrest, the teenager was charged with felony assault, menacing, harassment, criminal possession of a weapon and a hate crime, CrownHeights.info reported.
The NYPD and the Shomrim did not immediately return Fox News' request for additional information.
The attack on Monday follows a separate incident in which a New York City cab driver was caught on video viciously beating a Jewish man in the middle of an intersection early Sunday morning.
The victim in that incident, Lipa Schwartz, reportedly told a local state assemblyman that the alleged attacker – later identified as Farrukh Afzal, 37, - was yelling the words "Allah" and "Israel" while pummeling him in the heavily-Jewish Brooklyn neighborhood of Borough Park.
The Brooklyn District Attorney's Office told Fox News on Monday that Afzal, of Staten Island, is facing attempted assault in the second degree, assault in the third degree, menacing and harassment charges.
Fox News' Greg Norman contributed to this report.