Teen must pay nearly $37M for starting Oregon wildfire, judge rules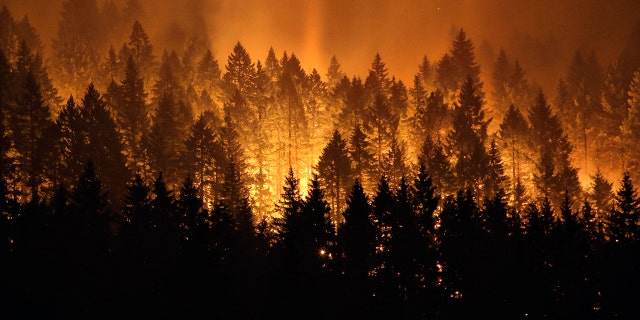 NEWYou can now listen to Fox News articles!
An Oregon judge ruled Monday that a 15-year-old Washington state boy must pay nearly $37 million for starting a major wildfire in the scenic Columbia River Gorge this past September.
Hood River County Circuit Judge John A. Olson wrote in his order that the restitution figure of $36,618,330.24 "is clearly proportionate to the offense because it does not exceed the financial damages caused by the youth," The Oregonian reported. The amount is meant to cover the costs of firefighting, repair and restoration to the gorge and damage to homes.
Olson added that payments could be halted after 10 years as long as the teen complies, finishes probation and doesn't commit other crimes. State law allows the Oregon Department of Revenue to garnishee the teen's bank accounts or paychecks. If he's due refunds on his tax returns, the state could take those. If he wins the lottery, the state also could collect all of his winnings.
The restitution is solely the responsibility of the boy, and not his parents, who came to the U.S. from Ukraine.
At a hearing last week, the boy's lawyer urged for a "reasonable and rational" penalty, calling the $37 million sought an "absurd" amount for the child.
The attorney, Jack Morris, told The Oregonian in an email Monday that he did not "question that the amount of damage is in the tens of millions as asked for."
"An enormous number of people have suffered and in reality if it was possible to account for all of the losses it could even be more," Morris added.
The teen, who was identified in court documents as A.B., admitted to sparking the blaze when he threw two fireworks in Eagle Creek Canyon on Sept. 2. The fire caused evacuations, an extended shutdown of a major interstate highway and devastation to a major outdoor tourist attraction.
The boy pleaded guilty in February to reckless burning of public and private property and other charges. Olson sentenced him to 1,920 hours of community service and five years of probation, and the boy had to write more than 150 letters of apology to those affected by the fire that burned 75 square miles.
The Columbia River Gorge National Scenic Area attracts more than 3 million tourists a year and holds North America's largest concentration of waterfalls. The fast-moving blaze ravaged popular hiking trails and marred stunning vistas.
The Associated Press contributed to this report.