Teen banned from track meet over pink Mohawk to support cancer-stricken mom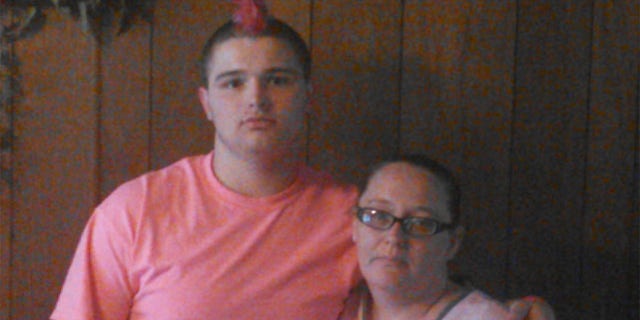 NEWYou can now listen to Fox News articles!
A Michigan high school student was banned from competing in his school track meet unless he got rid of the pink Mohawk he's sporting to honor his mother who has breast cancer.
Mike Barker, a junior at West Iron County High School in Iron River, Mich., told FoxNews.com he was told his new hair style did not meet the school's grooming and appearance policy, and was told by his coach and then the school principal that he could not compete in his team's meet on Thursday.
"[My coach] told me I can't have pink hair with Mohawk to support my mom with breast cancer," Barker, 17, told FoxNews.com. "I want this to change. That's my goal."
Barker said the idea began when he and his mom were talking at the start of football season in the fall.
"She said, 'You know what you should do for me? You should dye your hair pink and make a Mohawk for me,'" he said.
By the time basketball season came around, his hair was long enough for a Mohawk and finally on Wednesday he bleached his hair to prepare for dying it pink.
His mother, Wendy Pawlicki, told FoxNews.com she was all the more outraged because her son had been to track practice for weeks with his Mohawk—it was only when he dyed it pink that he was suddenly not allowed to compete in his sport.
In response to FoxNews.com's email request for comment, West Iron County High School principal Mike Berutti emailed back the following statement from the superintendent:
"The West Iron County Public Schools supports the needs of the students to express themselves, as long as their expression does not interfere with the educational process. We also strive to balance individualism of athletes with the concept of team that fit within our athletic code. The athletic department is going to work with the student and parents to resolve this issue. The student was not dismissed from the team and we welcome his participation in the future. The athletic department has long supported breast cancer awareness by participating in numerous events involving student athletes and staff held in October (Breast Cancer Awareness Month) and plan to continue to support this worthy cause. "
Berutti also wrote, "Might add, never was he told to shave his head."
But Barker says it was,in fact, his principal, in addition to his track coach, who said it was shave his head or not compete in the track meet.
Pawlicki said several family members have had cancer and she was proud of her son's commitment to raise awareness with his pink Mohawk. She sent FoxNews.com photos of more than a dozen pink-clad students showing their support of him.
"At the track meet, they told him unless he shaved his head he couldn't compete and his head wasn't shaved so he didn't," Pawlicki, 37, said.
She said that students from her son's school and from neighboring towns have all rallied in support of him, wearing pink and dying their hair the same color, too.
She was proud of her son's refusal to shave his head.
"I'll support him in whatever he's doing," she said.
To contact this reporter e-mail jana.winter@foxnews.com