Teen Accuses Ex-Penn State Coach Sandusky of Raping Him at Charity Camp on Campus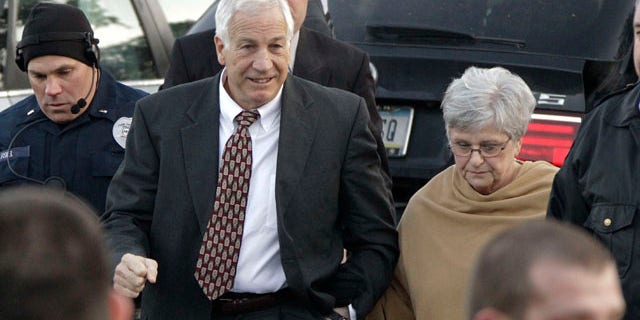 A teenager says he was raped by Jerry Sandusky inside his office in Penn State University's football building in 2004 — two years after the ex-football coach was said to have had his campus keys taken away and was banned from bringing children into the building, the boy's lawyer told FoxNews.com.
The now-19-year-old says Sandusky sodomized him when he was 12 years old and attending a summer camp program on the Penn State campus run by Second Mile, Sandusky's charity organization. The accuser has initiated a civil suit against Sandusky, Second Mile and Penn State University.
The Attorney General's office is investigating the allegations, FoxNews.com has learned, though a spokesman from the AG's office declined to comment.
The statute of limitations for criminal charges in such cases is 12 years after the child's 18th birthday.
The teen's lawyer, Charles Schmidt, told FoxNews.com in an interview on Thursday that Sandusky lured the boy into an office seven years ago, plied him with alcohol and raped him. He said Sandusky then gave the boy Penn State football championship memorabilia, walked him outside and handed him off to a Second Mile counselor.
Schmidt said Sandusky gave the boy a football championship commemorative bottle and a hockey puck, and that both items have recently been turned over to police.
The office where the alleged rape occurred is thought to have been Sandusky's office in Penn State's Lasch football building, Schmidt said. He said he thought that Second Mile's programs were run out of that building.
A source said indoor camp activities were often held inside the building—especially when it rained and activities were moved indoors—and that Sandusky used his office there as his de facto Second Mile office when camps were in session.
Schmidt said Sandusky targeted the boy during a question-and-answer session—part of the summer camp program and held inside the Penn State football building—that involved the coach quizzing the children on various topics. The camper with the correct answer received a prize, Schmidt said.
Near the end of the session, Schmidt said, Sandusky asked a trivia question relating to a quote from a U.S. president, and the boy was the only one who knew the answer.
"Sandusky said he was out of prizes but told him to follow him," Schmidt said. "He gets him in a room. He's on one side of the desk, the boy is on other. [Sandusky] proceeded to engage him in conversation -- he had lost his mother, his mother died the year before, he had a very hard time, they were very close -- they talked for a while about that. Then [Sandusky] pulled out a glass with alcohol in it and told him to drink it. Then he sodomized him."
After the alleged assault, Schmidt said, Sandusky helped clean up the boy, gave him the two mementos and took him back outside to join the rest of the campers, passing him off to a counselor.
The incident allegedly occurred two years after ex-athletic director Tim Curley says Sandusky was banned from bringing Second Mile boys into the football building and had his keys taken away.
In 2002, according to a grand jury report released last month, then-graduate assistant Mike McQueary said he saw Sandusky raping a boy in the football building showers, and that he informed former head coach Joe Paterno and Curley. Curley said that in response, Sandusky was banned from bringing Second Mile children into the football building, and Second Mile executives were informed of the alleged incident.
But Sandusky's attorney Joe Amendola said the ban never happened.
"He wasn't banned from using Penn State facilities until November 2011," after criminal charges were filed in the broader case, Amendola told FoxNews.com. "Jerry was using Penn State facilities right up until the week before charges were filed. It's obvious Penn State didn't consider him dangerous. In fact, he wasn't."
Amendola added: "Jerry's conversation with Tim Curley regarding the McQueary situation never included anything relating to whether Jerry had an office or kept an office at Penn State."
Paterno's attorney did not return an email request for comment.
Second Mile spokesman Eric Herman said via email that the charity is unable to comment because it has not seen a complaint detailing the new allegations. (The complaint has not yet been filed.) He did not respond to specific details provided by FoxNews.com of the alleged assault and would not say whether Sandusky used his office in the Lasch building to conduct Second Mile business, or whether the charity used the building during the summer camps.
A spokeswoman for Curley's attorney said FoxNews.com's questions should be addressed to Penn State.
Penn State spokeswoman Lisa Powers said via email: "We can't comment on specific charges or individuals -- this is a matter under various investigations and now in the courts, so any comment would not be fair or appropriate right now. We remain concerned about the victims and our hearts go out to any such victims and their families. We are cooperating fully with all authorities and investigations, including an independent committee appointed through the Board of Trustees under Judge Louis Freeh."
Schmidt said the university dropped the ball.
"They informed the Second Mile, told him he couldn't bring boys around the locker room, took away keys to office building, but two years later he's using the Lasch building as his office for the Second Mile program," Schmidt said. "They were using part of the Lasch building for Second Mile activities… This is the same office he wasn't supposed to have keys to—in the Lasch Building."
Amendola's co-counsel Karl Rominger said of the new accuser: "The reality is it didn't happen. If you listen carefully, [the allegation] doesn't make sense. In the history of sex crimes, you see grooming behavior—you don't pick a kid out of crowd and assault him one time all of a sudden. On its face it doesn't even sound plausible.
"Even if this person is a perpetrator, now that this is national news it seems to be that people are coming forward suddenly remembering things… anyone coming forward in this matter—you have to question their motivation. Everyone knows about how much money's involved here."