Teen accused of shooting cop's dog to be tried as adult, judge rules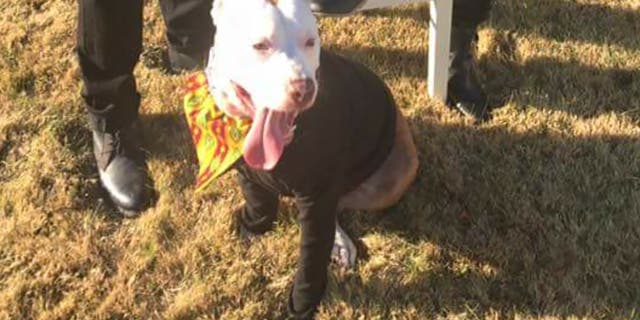 A teen accused of shooting a police officer's dog while trying to intimidate a boy who talked to his girlfriend will be tried as an adult, a Virginia judge has ruled.
The 17-year-old will appear in adult court on charges of armed burglary, conspiracy and animal cruelty, the Virginian-Pilot reported.
Teens 14 and older charged with certain violent crimes are tried as adults, according to Virginia state law. The charges against the 17-year-old were not part of the law, allowing Judge Deborah Bryan to exercise her judgment based on the teen's history and evidence, the newspaper reported.
Authorities said the Virginia Beach resident was upset that another boy had been communicating with his girlfriend and planned to fight or scare him Dec. 17 at the rival's — where he lived with his police officer cousin, the Virginian-Pilot reported.
Officer Jerome Scurry was home at the time when the 17-year-old -- accompanied by two friends and his girlfriend -- arrived at the home. When the rival teen refused to step outside, the 17-year-old and a friend kicked the door down and entered with guns drawn, authorities said.
Scurry grabbed his service weapon to confront the intruders, but his pit bull Zulu responded first, charging at the teens. That's when the 17-year-old allegedly shot the dog.
Zulu underwent emergency surgery and was expected to make a full recovery, WAVY-TV said.
"He's doing good," Scurry told the station. "He's bouncing back to normal. He's a strong dog."
The 17-year-old was ordered to remain in juvenile detention without bond until the court date. His attorney planned to appeal the judge's ruling.