Teachers in Philadelphia plan a Black Lives Matter week
PHILADELPHIA – A teachers' organization in Philadelphia is encouraging teachers to wear Black Lives Matter T-shirts and buttons and provide lessons on the movement every day for one week.
The Caucus of Working Educators, a faction of the teachers union, is developing lessons plans and curriculum ideas for teachers of grades from kindergarten through high school for the week of Jan. 23. The plans, distilled from the movement's 13 guiding principles, such as embracing diversity and globalism, will be available online , organizers said Friday.
"The vast majority of students that we serve are black, and it's important to affirm the lives of our students," said co-organizer Charlie McGeehan, who is white and teaches high school humanities at The U School, where students work on solving real-world problems.
The organizers said more and more educators are signing on every day, but they don't have an exact number of participating teachers.
"We had 500 buttons and shirts and distributed those and ordered more," McGeehan said.
Amy Roat, who teaches English as a Second Language at Feltonville School of Arts and Sciences, said the idea is to engage students in current events and help them learn about other people. Most of her students are Latino, Asian and Arab-American.
"We are a school that is very inclusive and we talk about a lot of good, juicy stuff," she said. "Black Lives Matter functions with 13 principles that I think are good and healthy for kids to learn about."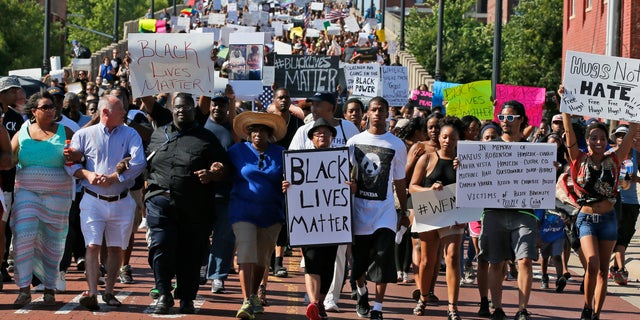 She said she hasn't heard any complaints or gotten any blowback from teachers, principals or parents.
Roat, who is white, said they planned the curriculum for a week after Martin Luther King Day, to build off the momentum of marches, protest and actions.
Talk of developing the curriculum got started in October, after a school district in Seattle had a "Black Lives Matter at School" day, McGeehan said.
"We were inspired," he said.
A school district spokesman didn't comment directly on the caucus's plans but said the district provides regular avenues for students to learn and express themselves.
A spokesman for the Philadelphia Federation of Teachers, the main teachers union, said it couldn't comment on the plans because it wasn't a union-sponsored activity.
The Black Lives Matter movement largely emerged in 2014 after several high-profile killings of unarmed black men and boys by police officers. It has since evolved from its social media presence and protests in multiple cities to a national platform with a policy agenda that also addresses issues including mass incarceration, and systemic inequality against African-Americans.
For McGeehan, he plans to incorporate the materials during his 40-minute advisory period, and can see ways it could come up in English and social studies classes.
"We want to show the complexity and diversity of the Black Lives Matter movement," he said.