Teacher on leave after asking students to list positives of slavery: report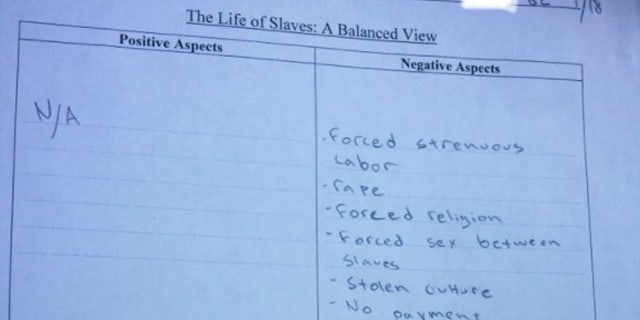 A charter school in San Antonio apologized Thursday after a teacher's assignment asked to list the positive and negative aspects of slavery a day earlier, Fox 29 San Antonio reported.
The eighth grade American History class assignment was titled "The Life of Slaves: A Balanced View," MySanAntonio.com reported.
Parents at Great Hearts Monte Vista Charter School were outraged after learning about the assignment.
"The assignment itself weighing the pros and cons of slave life and slave perspective quite honestly is just gross," one father said. "There are no pros to one human being owning another."
Great Hearts Texas Superintendent Aaron Kindel addressed the public with statement, MySanAntonio.com reported.
"Our review of the situation found this incident to be limited to one teacher at just one campus," Kindel said in a statement obtained by the publication. "It was a clear mistake and we sincerely apologize for the insensitive nature of this offense."
The school has reportedly placed the teacher on leave while they investigate the matter.
The history book used in class, "Prentice Hall Classics: A History of the United States," has also been removed and will be audited, MySanAntonio.com reported.
"To be clear, there is no debate about slavery," the superintendent's statement read. "It is immoral and a crime against humanity.