Task force preparing to investigate Detroit funeral home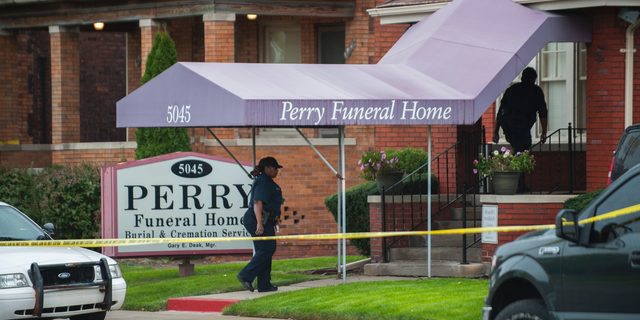 DETROIT – A police task force is preparing to investigate a Detroit funeral home where 36 fetuses were found in boxes and 27 others in freezers, the city's police chief said Thursday.
Chief James Craig told reporters at a news conference that the task force will include his officers, state police and the FBI. On Monday, the task force will start looking into operations at the Perry Funeral Home , where the fetuses were found last week.
Meanwhile, Detroit police are continuing its probe into the defunct Cantrell Funeral Home after remains of 10 fetuses and one stillborn infant were found beneath insulation in a ceiling.
Both investigations could focus on improper storage of remains and fraud.
The remains of six of those fetuses have been identified through tags attached to the remains or bags they were stored in. The information led police to relatives and investigators have spoken to parents connected to three of the fetuses, Craig said.
"The biggest challenge is identifying those fetuses," he said.
The state shut down Cantrell in April after finding 21 improperly stored bodies. On Thursday, cremated remains of nearly 300 people seized in April from Cantrell were taken to a suburban Detroit funeral home in preparation for proper burial.
Michigan Licensing and Regulatory Affairs said the remains found at the Perry Funeral Home were turned over to state investigators, who immediately declared the funeral home closed and its license suspended.
Inspectors for the State of Michigan's Corporations, Securities & Commercial Licensing Bureau said in a statement that they had found "heinous conditions and negligent conduct," including numerous failures to certify death certificates and obtain proper permits for burial.
"We are following the paper trail," Craig said about Perry Funeral Home. "There are some deep concerns about record-keeping."
The Associated Press left a message Thursday seeking comment from the Perry Funeral Home attorney.
Craig said the investigation into Perry Funeral Home began after a man who sued the business over its handling of remains of infants and fetuses saw coverage of the discoveries at the Cantrell Funeral Home and told his attorney to contact police.
That lawsuit , filed in July, alleges the Perry Funeral Home stored the remains of stillborn and live birth babies in the Wayne State University School of Mortuary Science morgue for up to three years without trying to notify parents, some of whom wanted to donate the bodies for medical research. It also alleges the funeral home may have fraudulently billed Medicaid, as well as the Detroit Medical Center, for burials it never performed.