Tamir Rice lawyer releases videos ahead of officer hearings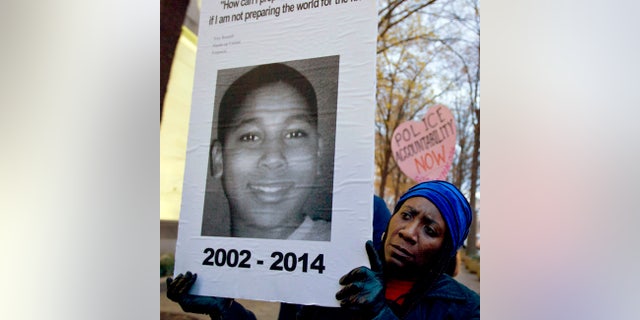 CLEVELAND – An attorney for the family of Tamir Rice said Tuesday he provided videotaped interviews of the two white officers involved in the fatal shooting of the 12-year-old black boy to news organizations to show inconsistencies in the officers' statements as the city ponders whether to discipline or even fire them.
The interviews contain no new significant details about the shooting.
It's unclear when Cleveland detectives interviewed Timothy Loehmann, who shot Tamir, or Frank Garmback, who was driving the cruiser that skidded to a stop near the boy at a recreation center in November 2014 as he held a pellet gun.
Nothing the officers said during the interviews could have been used against them in a criminal prosecution because they weren't read their rights beforehand. A grand jury agreed with the then-Cuyahoga County prosecutor's recommendation that the officers not be charged.
Loehmann insisted during his interview that he shouted multiple times at Tamir to show his hands before shooting him, which Garmback affirmed in his interview.
SUSPECT IN SEX ASSAULT OF 9-YEAR-OLD GIRL HAS BEEN DEPORTED TO MEXICO
Detectives from the Cuyahoga County Sheriff's Office cast doubt on that claim in an investigative report. A grainy surveillance video shows Loehmann shooting Tamir almost simultaneously with the cruiser's arrival, leaving questions about how Tamir could have heard anything through the closed windows of the cruiser as it sped toward him.
The officers were responding to a call about a black male waving a gun and pointing it at people. A police dispatcher who sent the officers there wasn't told by a 911 dispatcher that the caller had said the male could be a juvenile and the gun might be a fake.
Loehmann said — and Garmback confirmed — that Tamir turned away and appeared to be ready to flee as the cruiser approached. The surveillance video shows Tamir stepping from beneath a gazebo where he had been sitting and steps toward the cruiser as it arrived.
A detective asked Loehmann why he shot Tamir. Loehmann replied that he believed Tamir was a threat.
"I thought I was gonna die," Loehmann said.
Loehmann is asked whether he and Garmback had time to rehearse their statements about the shooting before talking to investigators on the day of the shooting.
"Not really," Loehmann replied. "We talked probably briefly about it, just making sure we were okay."
POLICE AMBUSH KILLER ERIC FREIN WON'T TAKE STAND IN BID TO SPARE LIFE
Cleveland settled a federal civil rights lawsuit filed by Tamir's mother and sister for $6 million last year. The city gave the recorded interviews to the Rice family attorneys during for the lawsuit. Attorney Subodh Chandra provided copies of the interviews to The Associated Press on Tuesday after releasing them to Cleveland.com.
Tamir's mother, Samaria Rice, has continued to insist the officers be fired.
"She is concerned and distressed that the city will yet again sweep conduct under the rug and leave these officers with badges and guns," Chandra said.
Henry Hilow, a police union attorney who was present during the interviews and represents the officers at upcoming disciplinary hearings, said Chandra is trying to influence the process. Hilow also questioned why Cleveland hasn't released a report from city officials that concluded the officers properly used deadly force in the shooting.
"The mayor's running for re-election," Hilow said of Mayor Frank Jackson. "They're trying to manufacture a reason to fire (the officers)."
Loehmann's disciplinary letter doesn't mention the shooting, but instead cites his failure to reveal during the Cleveland police application process that a suburban department allowed him to resign instead of being fired at the end of a six-month probationary period.
Garmback's letter cites him for driving too close to Tamir and his failure to call police radio after arriving at the recreation center.