Syracuse University suspends fourth fraternity this academic year after shocking racist video emerges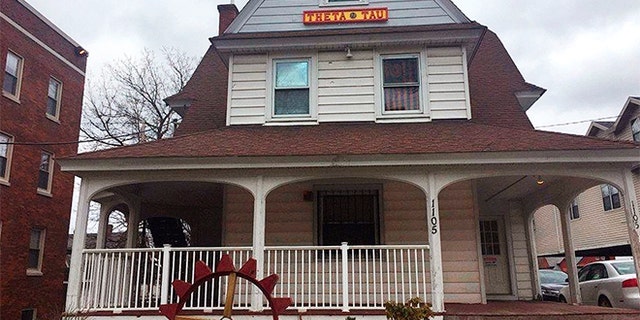 NEWYou can now listen to Fox News articles!
Syracuse University's student association is calling on administrators to expedite plans to audit the institution's troubled Greek life community after a shocking video emerged this week showing one fraternity's members spewing racist slurs and engaging in crude, simulated sexual acts.
The suspension of the Theta Tau chapter, announced Wednesday by Syracuse University President and Chancellor Kent Syverud, is the fourth fraternity to be suspended by the well-known school this academic year, and has spawned protests on campus from students outraged over the behavior.
"I solemnly swear to always have hatred in my heart for n-----s, s---s and most importantly the f----n' k---s," one student is heard saying in the video to the sounds of laughter and applause.
The comments were made during an apparent "oath" in front of the engineering fraternity's members inside their house near campus. The video was obtained and released by The Daily Orange student newspaper on Wednesday night, and was originally posted on a secret Facebook group entitled "Tau of Theta Tau," it said.
"You f----n' k---s, get in the f----n' showers," another voice is heard saying during the video.
Multiple members of the fraternity who purportedly posted in the secret group where the video appeared did not respond to requests from Fox News for comment at the time of publication of this article. One of the members appeared to delete his Facebook profile minutes after being contacted Thursday morning.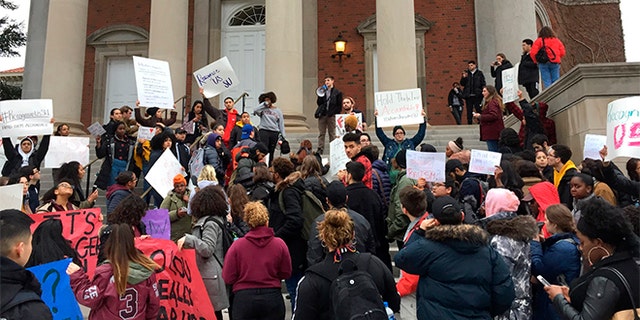 The fraternity's central office in Austin, Texas, also did not respond to a request for comment.
"I am appalled and shaken by this and deeply concerned for all members of our community," Syverud said in a message to the school Wednesday, revealing that additional videos of the fraternity being involved in "extremely troubling and disturbing conduct" have surfaced as well.
"They include words and behaviors that are extremely racist, anti-Semitic, homophobic, sexist, and hostile to people with disabilities," he added.
Syverud said the footage has been turned over to Syracuse University's Department of Public Safety and police have launched an investigation "to identify individuals involved and to take additional legal and disciplinary action."
James Franco and Angie Pati, the university's student association president and vice president, called on Syracuse officials Wednesday to immediately start an audit of all of its recognized fraternities and sororities, including social, multicultural and professional groups, The Daily Orange reported.
"It would be an external review from members outside of the university community," Franco told the newspaper. "Experts who are nationwide on Greek life, they would work with individual chapters and national chapters and just review, again, operations of Greek life on campus to see what goes well and what could be improved."
Pati said discussions of an audit have already occurred with administrators before this week's incident, but it had been scheduled to start this summer.
Sigma Alpha Mu, Alpha Epsilon Pi and Delta Tau Delta has also been suspended from Syracuse University this academic year from violations including hazing and threatening the safety of those participating in the recruitment process.
In a video posted by The Daily Orange, the student taking the Theta Tau racist "oath" is also shown, on his knees, stroking a cylindrical object being held by another student as if it were his penis.
"He's drooling out of his mouth because he's retarded in a wheelchair," the newspaper claimed another person said in a separate video.
Zach Hammond, a senior listed as a member of the fraternity on its website, and whose name is mentioned in the "oath" video, told the newspaper that he was not present at the fraternity house when it was recorded.
"There were certainly some things I disapproved of, but I certainly didn't realize that bad of things were being said. It's just disgusting," he added.
Police officers stood guard outside the fraternity home Wednesday as protesters marched through the area.
"Hey hey, ho ho, Theta Tau has got to go!" a crowd was heard saying.
Hundreds of students also filled into a chapel Wednesday night for a public forum on the incident and Syracuse University's response.