Suspected killer of Border Patrol agent expected to face more charges linked to cartel crimes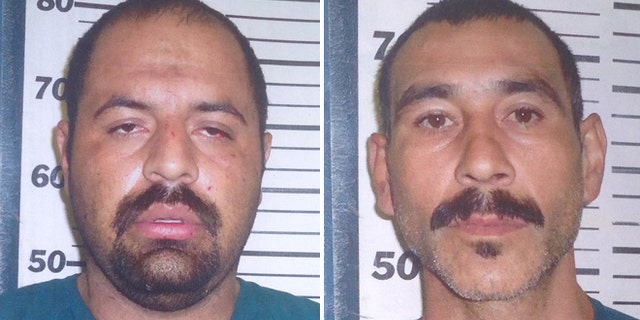 MCALLEN, Texas – The alleged gunman in a Border Patrol agent's murder is expected to be hit with additional charges tying him to a series of armed robberies and car jackings at fishing spots in Cameron County over the last six weeks believed to be tied to the Gulf Cartel, sources told FoxNews.com.
One of those prior victims, who apparently was not injured, was an off-duty Border Patrol agent, sources told FoxNews.com.
Gustavo Tijerina, 30, and Ismael Hernandez, 40, were charged Tuesday with murdering off-duty Border Patrol agent Javier Vega Jr. in Willacy County, along with six other charges including aggravated robbery and the attempted murder of Vega's father, who was shot in the hip.
Tijerina is the suspected gunman who sources say allegedly shot and killed Vega during a botched robbery attempt at a secluded fishing hole on Sunday night.
Tijerina was expected to be charged with four counts of aggravated robbery and one conspiracy organized crime charge for his involvement in the recent string of Cameron County robberies, sources told FoxNews.com.
One of the earlier victims was another off-duty Border Patrol agent who was also out fishing when he was robbed. The crew that robbed fishermen in Cameron County was known for firing shots while ordering victims to hand over jewelry, cash and keys to their cars.
FoxNews.com previously reported that both suspects had been arrested and deported numerous times and have been living in South Texas illegally. Tijerina was arrested at least four times for crossing into the U.S. illegally between 2007 and 2009, according to court records. Hernandez was arrested and deported at least twice.
The Border Patrol union has set up a memorial fund.
On Wednesday, Border Patrol released this statement: "The senseless shooting death of Border Patrol Agent Javier Vega Jr. while fishing with his family Aug. 3, has left an indelible impact upon the men and women of the U.S. Border Patrol's Rio Grande Valley Sector.
"Words cannot express our sorrow for the loss of our brother, when we lose one of our own, it feels as if we've lost a beloved member of our own family," said Chief Patrol Agent Kevin Oaks. "I wish to express to his family and friends my deepest condolences. May the peace that comes from the memories of the time you shared together, comfort you now and in the difficult days ahead.
"Prior to joining the Border Patrol, Agent Vega served his country as a Marine. His service in the Marine Corps and in the Border Patrol is a true testament to the type of man he was. His character, work ethic and desire to help others are commendable. His death is not only a loss for RGV Sector and the U.S. Border Patrol, but for our entire community.
"The Kingsville Station is at a loss," said Kingsville Station Acting Patrol Agent in Charge Arnold Perez. "Not only did Javier strive to be the best agent and K-9 handler, but he also made it a point to develop and truly care about his friendships."
"In the days that have followed this devastating loss, the impact has been immediate and sorrowful. In the many comments and thoughts expressed by those who knew him best, his family and friends were an obvious priority and focus in his life. His co-workers say he was a good man, devoted to his family, particularly his wife, Paola, and sons, Javier Vega III, Jiovanni, and Jarod. He was a beloved son and brother, and had a passion for life."