Suspected burglar caught burying gun outside Georgia courthouse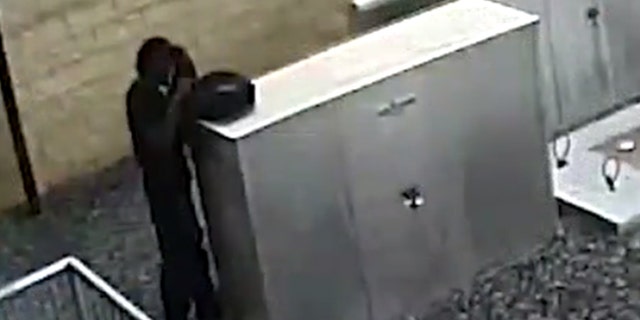 A suspected burglar trying to hide his gun from police dug a hole – for himself.
Sheldon Oliver, 23, was taken into custody by police in Georgia last week after surveillance footage captured him burying a loaded gun outside the Forsyth County courthouse, where he was set to appear as a suspect in a prowling case.
"In today's world, you can't take anything for granted," Forsyth County Sheriff Ron Freeman told FOX5 Atlanta. "Was it something innocuous? Could it have been an explosive device? Was it something else?"
Video footage obtained by the station shows Oliver pulling out a Louis Vuitton bag with the gun inside and then crouching down and burying it in the gravel outside the building.
He then walked through the metal detectors inside and was promptly arrested by police, who had a warrant out for him following an armed burglary at a local Islamic center, FOX5 Atlanta reported.
Oliver was charged with burglary, reckless conduct and carrying a weapon without a license and, as of Tuesday, was being held at the Forsyth County Jail on a $25,000 bond.
The courthouse had been attacked in 2014, when a man drove an SUV up to the property loaded with guns and grenades, according to FOX5 Atlanta.
"We certainly know the reality that it could happen here," Freeman said, noting the risk of a potential attack. "So no, we're never going to let our guard down for that."