Suspect in Seattle Military Recruiting Station Plot Allegedly Wanted Another Fort Hood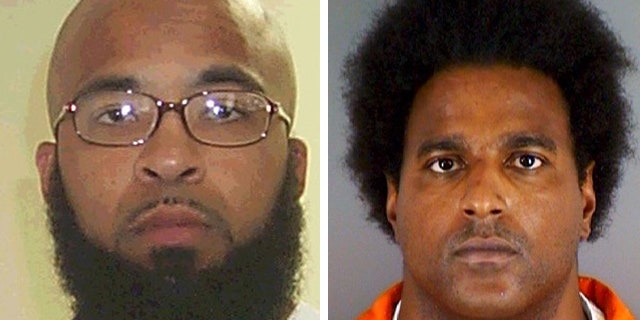 Abu Khalid Abdul-Latif harbored grandiose plans for an attack on a military recruitment station in Seattle and said if a single gunman at Fort Hood could kill 13 people, three gunmen could kill many more, according to the criminal complaint against Abdul-Latif.
He and Walli Mujahidh were arrested in the alleged plot after a nearly month-long investigation, the Justice Department announced Thursday. They are accused of planning an attack on the Seattle site with machine guns and grenades but were foiled when a prospective accomplice contacted authorities.
Since early June, authorities said they have been monitoring Abdul-Latif, 33, of Seattle, also known as Joseph Anthony Davis, and Mujahidh, 32, of Los Angeles, also known as Frederick Domingue Jr.
The men spoke about gaining access to the facility by driving a "truck that looks like the Titanic" through the "front gate," the complaint says, and Abdul-Latif told the source his objective was to "take out anybody wearing green or a badge."
"Imagine how many young Muslims, if we're successful, will try to hit these kinds of centers," said Abdul-Latif, according to the complaint. "Imagine how fearful America will be, and they'll know they can't push Muslims around."
Earlier this month, when Abdul-Latif noticed a security guard at a Seattle military recruiting station, he appeared unconcerned.
"We'll just kill him right away," he told an FBI source posing as an accomplice, according to the criminal complaint. "We can kill him first."
The U.S. Attorney's Office in Seattle said the defendants initially planned to attack Joint Base Lewis-McChord but later changed targets.
An FBI agent wrote in the complaint that the pair fantasized about the headlines the attack would generate -- "Three Muslim Males Walk Into MEPS Building, Seattle, Washington, And Gun Down Everybody" -- and speculated that if they got control of the building, TV news crews would arrive to cover them.
Mujahidh spoke with investigators after the arrests and confessed, the complaint said.
Abdul-Latif allegedly purchased machine guns the pair intended to use at the Federal Center South building, which houses various units of the military. The weapons were inoperable, and the public was never at risk.
Law enforcement agents were alerted about the plot by a citizen who was asked to participate and supply firearms, authorities said. The investigation has provided audio and videotape evidence of the two suspects discussing the would-be assault, authorities said.
Since the men lived far apart, they had conversations over the phone about how the attack should be carried out and also spoke about ways to train with the firearms beforehand, according to the compliant, obtained by FoxNews.com.
The complaint shows that on June 14, Abdul-Latif met with the FBI source, asked the source to obtain machine guns and grenades for the attack and, days later, paid the source $800 cash for the weapons.
Days later, Mujahidh is said to have taken a bus from Los Angeles to Seattle and met with the Abdul-Latif and the source to discuss details of the attack. They allegedly talked about using machine guns and grenades.
Abdul-Latif has previous felony convictions for first-degree robbery and custodial assault, as well as misdemeanor convictions for obstructing a law enforcement officer, assault and theft.
When he was prosecuted on the robbery charge in Kitsap County, Wash., in 2002, Abdul-Latif was ordered to undergo a psychological evaluation, and despite some "issues," he was found competent to participate in his defense, the FBI agent wrote.
Abdul-Latif was sentenced to 31 months in prison on that charge.
Mujahidh does not appear to have a criminal record, the agent wrote.
The two have been charged with conspiracy to murder employees of the U.S., conspiracy to use a weapon of mass destruction (grenades) and possession of firearms in furtherance of crimes of violence, authorities said.
Abdul-Latif is also charged with two counts of illegal possession of firearms. Both men face potential sentences of life in prison if convicted of the charges.
The two made a court appearance on Thursday afternoon.
Steve Dashiak, a bankruptcy attorney representing Abdul-Latif, told The Associated Press he was stunned by the developments, and that his client seemed like a regular man.
"I sensed no ill will from him whatsoever," Dashiak said. "He seemed like a guy just trying to make it, having a rough time because business wasn't going very well. To say that I didn't see this coming would be an understatement."
The Associated Press contributed to this report.