Suspect accused of shooting Vegas officer caught after manhunt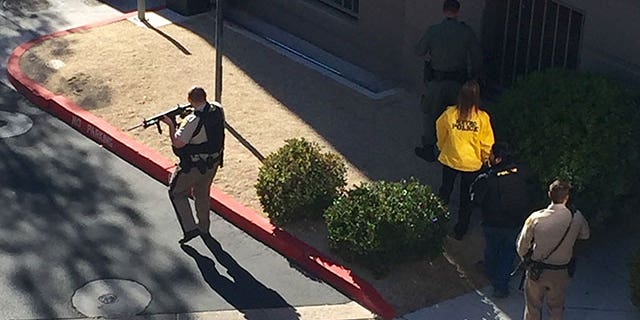 LAS VEGAS – A man suspected of shooting and wounding a police officer during a "chance encounter" Thursday at an apartment complex eluded a cordon of police south of the Las Vegas Strip before being arrested when he arrived in a golf course community miles away, authorities said.
Authorities say a police officer is wounded and a shooter is being sought after gunfire erupted as officers responded to a domestic disturbance at apartment complex south of the Las Vegas Strip. It wasn't immediately clear what words were exchanged before shots were fired and a 21-year patrol veteran was left with arm and torso wounds Clark County Sheriff Joe Lombardo said. A bullet missed the officer's ballistic vest.
The sheriff said the officer was able to sit up at the hospital and talk with family members and investigators by the time the suspect was arrested as night fell in Las Vegas.
Neither the officer nor his alleged assailant was immediately identified.
The man who was arrested is 38 years old and matched the description of the shooter, said police Sgt. Jeff Clark, a department spokesman. It wasn't clear if he was wounded.
"There was an exchange of gunfire," Lombardo told reporters. "The officer was able to fire. I'm yet to be told whether the suspect sustained any injuries."
The shooting happened as two officers investigated an unrelated call about a domestic argument, the sheriff said. One headed to the apartment office and was confronted by the shooter.
"My understanding it was a chance encounter," Lombardo said. "There was a verbal exchange. They were questioning each other as to why they were at that location. Shortly thereafter ... the suspect produced a weapon and fired on the officer."
The gunfight happened a little before noon in an area of high-rise apartment blocks surrounded by desert lots and some abandoned homes a little over three miles south of glittering Strip casinos. No other injuries were reported.
The arrest was made about 4:30 p.m. when Lombardo said the man arrived in the upscale Southern Hills residential and golf community, more than three miles farther south. The sheriff said investigators were trying to determine if the man had help trying to flee.
"There may be another individual involved," Lombardo said. "We did have a pretty tight perimeter. We have to figure out how he got from here to there."
Lombardo, who was driving nearby when the call in that an officer had been shot, said he tried to chase a man matching a description of the assailant running from the area. The man disappeared after jumping a fence.
The officer wounded Thursday was one of several in the Las Vegas area wounded by gunfire on the job this year, and the shooting was the third involving Las Vegas police this week.
One officer was badly wounded in the thigh early Sept. 4 by a shot from an SKS semi-automatic rifle while investigating a prowler call in the backyard of a home several miles west of downtown. Two suspects were arrested.
Two days later, another police officer was wounded in the hand while sitting in a patrol car at a traffic light. That officer's partner arrested a 17-year-old suspect.
Two North Las Vegas SWAT officers were wounded by shotgun fire and the man who shot them was killed in an exchange of gunfire Sept. 22 outside a home during a domestic argument-turned-hostage situation.
On Monday, Las Vegas police SWAT officers shot and killed a woman who officials said threatened suicide before aiming a shotgun at police.
Thursday's shooting brought to 15 the number involving Las Vegas police officers in 2015, including 10 that resulted in deaths.

Officer Laura Meltzer said Thursday the officer's wounds weren't believed to be life-threatening.
She says Clark County Sheriff Joe Lombardo was with him at University Medical Center.
The assailant wasn't in custody.
The Las Vegas Sun reports the officer was shot in his bullet-resistant vest and wounded in the arm as he arrived to a report of a disturbance before noon at the Emerald Suites apartments on Las Vegas Boulevard near Pebble Road.
It says police are searching for a bald white man in his 20s wearing a white shirt and a black hooded sweatshirt.