Survivor tells Boston Marathon bombing trial blast felt like she was 'on a rocket'
The jury in the Boston Marathon bombing trial heard testimony Monday from a survivor who described being blasted in the air like "on a rocket" by an explosion that tore off her new husband's leg.
Nurse Jessica Kensky recalled for the packed courtroom a scene of total chaos, of "smoke and blood," and how she tried to reach her injured husband, Patrick Downes.
"A man came over as I was trying to fumble to put a tourniquet on Patrick and said, "Ma'am, you're on fire, you're on fire," she testified, according to Reuters, at the trial of accused bomber Dzhokhar Tsarnaev, 21, in Boston Federal Court.
"I wanted to paint my toenails and put my feet in the sand. To lose my right leg was a gut-wrenching decision."
Kensky testified she felt searing pain "from my shoulder blades all down my back."
"I knew it was grim," she said, according to WCVB-TV. "I knew we needed help immediately. I didn't realize how bad it was….I knew my husband was critically wounded."
Kensky was also critically wounded. Doctors amputated her left leg hours after the April 15, 2013, bombing, which occurred near the marathon's finish line. Her right leg was amputated in January.
She testified on Monday that she desperately did not want to be a double amputee.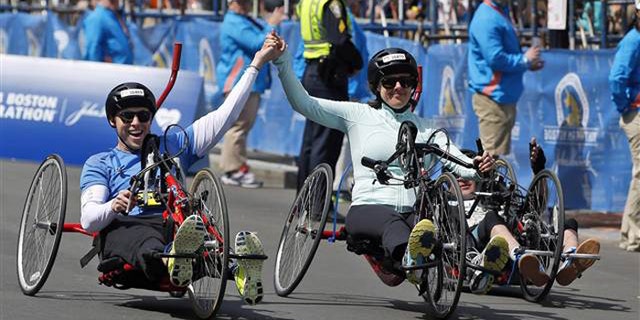 "I wanted to paint my toenails and put my feet in the sand," she told the jury. "To lose my right leg was a gut-wrenching decision."
Kensky, testifying on the trial's third day, was one of 264 people injured in the bombing, which killed three people. Previous testimony came from other survivors who offered their own gripping accounts of the carnage and the injuries they suffered after two pressure-cooker bombs exploded on crowded Boylston Street.
Kensky came to the courtroom with Downes, who lost his left leg below the knee. The pair had married less than a year before the attack, in August 2012.
A special ramp was installed at the courthouse to accommodate her wheelchair. Her service dog, a black lab named Rescue, accompanied her to the stand.
Tsarnaev's defense team told jurors the bombings were carried out by Tsarnaev and his older brother, Tamerlan Tsarnaev, 26, who was killed during a police manhunt three days after the bombing.
The lawyers say Tsarnaev was only following the lead of his older brother. They are trying to persuade the jury not to sentence their client to death, if convicted.
Kensky said they were in the back of the crowd. The bombs exploded 10 or 15 minutes after they got to the finish line.
"I remember being happy," she said, according to WCVB. "I remember feeling sunlight on my face."
She testified that after the first explosion she didn't feel or hear anything.
"I just felt like I was on a rocket, straight up into the air," she said. "I didn't know what happened. [I thought it was] a sewer explosion, something innocent like that."
At the end of testimony prosecutors introduced into evidence a number of photographs taken before and after the bombing. One photo taken before the bombing captured the nurse and Downes in the crowd. Kensky identified her husband for the record, drawing a heart around him.
Behind the couple in the same picture, Tsarnaev could be seen.
Jurors also watched a timeline video compiled by the FBI using surveillance video from stores and restaurants near the marathon finish line. The video, which shows both brothers' movements around the time of the bombings, focuses on Dzhokhar and shows him carrying a backpack up until he gets to the front of the Forum restaurant, when he is shown dropping the bag from his shoulder.
One frame then shows the backpack at his feet. The backpack is in a crowd of people and just feet from children standing on a metal barrier, including 8-year-old Martin Richard, who was killed, and his younger sister, Jane, who lost a leg in the blast.
As the first bomb explodes, the video shows everyone in the crowd turning toward the blast. Tsarnaev does not look in that direction and instead begins to walk in the other direction.
Seconds later, the second bomb explodes, and Tsarnaev, who prosecutors say detonated the second bomb, is seen running with a crowd of people who are also running. People are also shown jumping over metal barriers as smoke wafts over the scene.
Prosecutors showed jurors tweets from what they identified as two accounts of Dzhokhar Tsarnaev.
"If you have the knowledge and the inspiration all that's left is to take action," he tweeted April 7, a little over a week before the bombings.
"I want the highest levels of Jannah," he tweeted March 10, referring to the Islamic concept of paradise. "I want to be able to see allah every single day for that is the best of pleasures."
In January, three months before the bombings, he tweeted: "I don't argue with folks who say islam is terrorism it's not worth a thing, let an idiot remain an idiot."
Also testifying Monday was a woman whose close friend, 23-year-old Lingzi Lu, died in the second bomb blast.
Danling Zhou said Lu grabbed her arm after the first bomb exploded, looking panicked, and said "What happened?" and "What should we do?"
Before Zhou could answer her, the second bomb exploded.
When Zhou regained consciousness, she said she was sprawled across a fence. Her abdomen had been split open and her inner organs exposed, the Boston Herald reported.
When she looked at Lu, she thought she would be OK because she seemed to still have her arms and legs, Zhou said.
She found out later in the hospital that Lu had died. Both women grew up in China and were graduate students at Boston University.
According to the Boston Herald, another witness, Dr. James Bath, a general practitioner from Charlestown who attended the race with his wife as fans, tried to aid Lu but said the flesh on one of her legs had been peeled back to the bone and she was virtually bleeding to death.
"She was unconscious but breathing. She was also writhing and had vomited a bit," Bath testified. "At this point, I didn't feel I could be any more help to Lingzi Lu."
The Associated Press contributed to this report