Surveillance video of missing Colorado mom released as search intensifies
Surveillance video capturing a Colorado mom's final mundane moments before her Thanksgiving disappearance was released by investigators Monday, as the desperate three-week search for the 29-year-old intensifies.
Kelsey Berreth was last seen entering a Safeway store in Woodland Park at 12:27 p.m. on Nov. 22 with her 1-year-old daughter inside a car seat, video released by police showed. The 14-second clip shows Berreth grabbing a shopping cart and going inside the grocery store with her child — the last moment she was seen alive before going missing.
"Investigators have released that information [the surveillance video] as part of this Facebook post in hopes that it may lead to additional tips in this case," police said.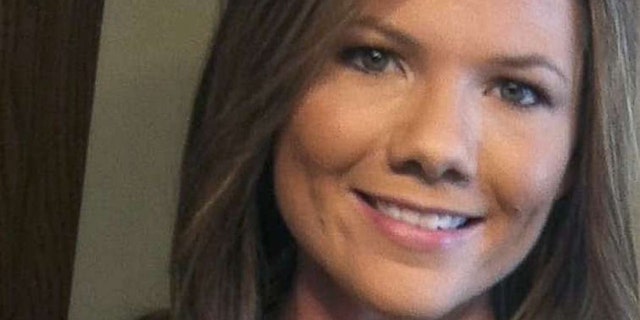 Authorities continue to scavenge for clues nearly three weeks since Berreth was spotted alive on the surveillance video. Patrick Frazee, Berreth's fiancé, told police he met up with Berreth later that Thanksgiving day to pick up their daughter, but details about the meeting have not been revealed.
Many questions, however, remain about Berreth's disappearance. The Colorado flight instructor sent a text three days after Thanksgiving telling her boss at Doss Aviation that she wouldn't be at work the next week. She also sent a text to Frazee — but the content of that message also was not released.
The last location her cell phone pinged from was in Gooding, Idaho, nearly 700 miles away from her home.
Berreth was reported missing by her mother 10 days after she was last seen and heard from.
All of Berreth's belongings, aside from her purse, were still at her Woodland Park home after her disappearance. Her two cars remain in Colorado, puzzling investigators as they search for the 29-year-old.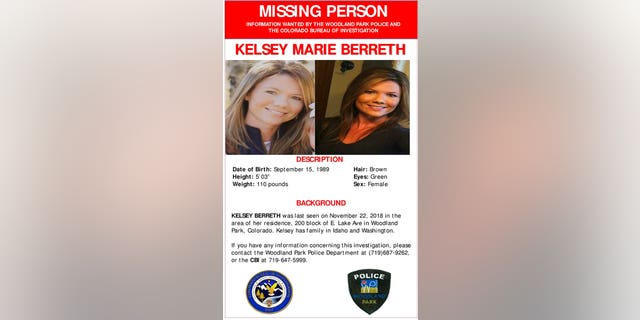 When asked if Berreth's fiancé is a suspect, Woodland Park Police Chief Miles De Young said Frazee is the "father of Kelsey's daughter and we're going to leave it at that."
"This is a missing persons case," he added.
The Colorado Bureau of Investigation's Department of Public Safety confirmed Wednesday there have been no suspects named in the case.
Frazee's attorney released a statement Wednesday after his absence from Monday's news conference sparked questions about his whereabouts and involvement with Berreth's disappearance. The statement from the office of Jeremy Loew said Frazee was given just one hour's notice to the news conference.
"Patrick Frazee continues to cooperate with law enforcement in the missing person investigation of Kelsey Berreth.  Mr. Frazee's cooperation includes interviews with law enforcement, voluntarily releasing his phone to be searched by law enforcement, buccal swaps, and photographs," the statement read, adding that Frazee would have attended the news conference if he had "more advance notice."
"Mr. Frazee will continue to cooperate with law enforcement and continue to parent the child he shares with Ms. Berreth," the statement added.
On Monday, Berreth's mother, Cheryl Berreth, put out a public plea in hopes of her daughter's safe return.
"Kelsey, we just want you home. Call us if you can. Someone knows where she's at," Cheryl Berreth said in a news conference on Monday afternoon. "She's not the kind that runs off. This is completely out of character."
Anyone with information on Berreth is urged to call the tip line at 719-687-9262.
Fox News' Alicia Acuna and Faith Mangan contributed to this report.